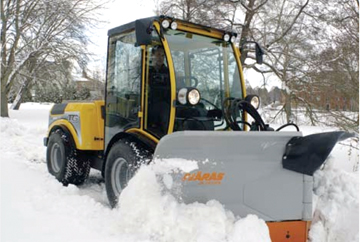 Belos Chooses H1 and PLUS+1 Technology
Only manufacturers of the strongest brands receive orders for a new product before the first one has even rolled off the production line. That was the experience of Swedish Belos with its new TransGiant implement carrier, one of the first machines in the world equipped with both H1 and PLUS+1 technology from Sauer-Danfoss.
"We sold the machine even before it was produced after presenting the prototype at a trade fair," explains Belos production manager Ronny Wagner. "Customers bought it without even trying it because of its very modern design."
The effect of this instant success was that the prototype design needed to be ready for commercial series production within a matter of weeks - a challenge that closely involved Sauer-Danfoss. Today the warmth of the market's initial welcome has still yet to cool.
Shortly after the launch, Belos upped its original production forecast of 40 machines a year to 80. Each one bears a complete Sauer-Danfoss hydraulic system - including an H1 78 cm3 piston pump for the transmission and, from the PLUS+1 range, an MC 50 microcontroller and I/O module for full system control, a JS 1000 joystick with individual tool settings, and a DP600 graphic display for a full overview of machine operations.
The compact efficiency of H1 and PLUS+1 is a major advantage on the TransGiant, a machine designed for tackling big municipal tasks such as grass cutting, snow clearing and sand spreading.
Located under the cabin is the electrically actuated six-section PVG Hybrid that supplies finely tuned hydraulic power to the work functions. With this compact combination of PVG 32 valves and a hydraulic integrated circuit block installed, all valves and cables are neatly hidden away, making the TransGiant the height of operator comfort.
Part of the Global Garden Product group, Belos has a long-established relationship with Sauer-Danfoss. This and the high quality of the hydraulic solutions were the main reasons for choosing Sauer-Danfoss as a supplier for the TransGiant. In light of the machine's rapid success, Belos recently sent one of its smaller TransPro implement carriers to Sauer-Danfoss in Germany for trials with H1 and PLUS+1 technology.
Source: Sauer-Danfoss