40 CNG-Powered McNeilus Mixers On Duty with Argos USA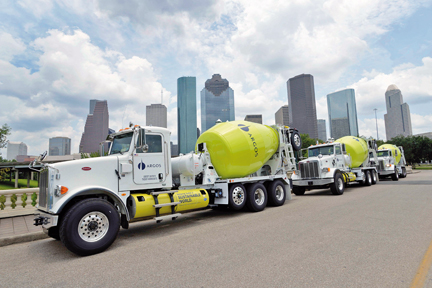 McNeilus Truck & Manufacturing, Inc., an Oshkosh Corporation company, has delivered 40 McNeilus® Bridgemaster® ready-mix trucks to multinational Argos USA. The vehicles, which feature McNeilus' industry-leading Next Generation (NGEN) compressed natural gas (CNG) systems (engineered and fully tested at the McNeilus campus), represent the first-ever CNG trucks placed into service by Argos.
"The new McNeilus CNG mixers are extremely quiet – it's eerie how quiet they are compared to a traditional 12 l diesel. Other than that, our drivers don't notice any difference," said Daryl Mizell, Argos USA sourcing manager. "We are exploring options to expand our CNG fleet, and are vetting other metropolitan markets where we compete. I believe CNG will be well-received anywhere we go."
Twenty of the new vehicles are now on the job with Argos operations in Houston, Texas, and the remaining 20 will serve customers from facilities surrounding Dallas. Argos is completing final construction on dedicated fueling stations – each with 25 fill posts – in Dallas and Houston. The Argos CNG trucks plug in at the end of each shift and time-fill overnight. (The fuel control module is designed for either fast-filling or time-filling to fit customer preferences.)
"CNG-powered vehicles are transforming the industry, and these first units for Argos are a prime example of the shift to alternative-fuel powered ready-mixed concrete trucks," said Brad Nelson, Oshkosh Corporation senior vice president and president of the Commercial business segment. "We're proud to be a major player in this movement toward a more environmentally-friendly, domestically produced, lower-cost fuel."
The identical mixer vehicles are a five-axle configuration, outfitted with an 8.4 m3 McNeilus drum and Bridgemaster tag axle. Each of the trucks features a 227 l (diesel equivalent) fuel tank, an automatic transmission, an anti-roll stability system, and wireless mixer controls.
Engineered with both the operator and the service team in mind, McNeilus NGEN CNG systems are designed for the rugged ready-mix concrete environment. The plumbing system is built with precision-formed high-pressure lines, compression fittings, and fewer connection points to deliver more consistent and reliable fuel flow. The lightweight, natural gas vehicle (NGV) Type 4 tanks and long-lasting fuel storage pods feature all-aluminum tank covers.
Cementos Argos S.A. is a Colombia-based company engaged in the production of cement, aggregates and concrete products. The company operates cement and concrete production plants located throughout Colombia, Central America, the Caribbean and the United States. The Argos USA operation currently includes over 300 ready mix plants, 3 cement plants, 3 grinding facilities, and 12 cement terminals, located throughout Alabama, Arkansas, Georgia, Florida, Mississippi, North Carolina, South Carolina, Texas and Virginia.
Source: McNeilus Companies, Inc., London Machinery