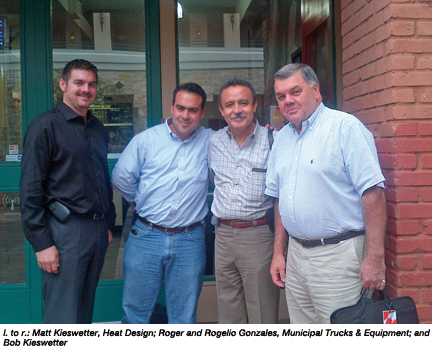 HDE to be Distributed in Mexico
Heat Design Equipment Inc. of Kitchener, Ontario. is pleased to announce the appointment of Municipal Trucks & Equipment L.L.C. (MTE) of Hidalgo, Texas, as the exclusive manufacturer and marketer of Heat Design infrared heaters and equipment for the Republic of Mexico. Heat Design has had some equipment sales of asphalt heaters and recyclers in Mexico, but this agreement ensures a better availability of this unique, patented product to assist in improving construction and repair of asphalt pavements.
MTE was founded in 2000. The company specializes in the refurbishing and/or remanufacturing of emergency and public utility equipment.
The manufacturing plant is located in Reynosa, Tamaulipas Mexico where the company works under a Maquila program. Sales offices are in strategic points in Mexico including, Reynosa, Tamaulipas, Monterrey, Nuevo Leon, Mexico City, MTE works through dealers throughout different cities. A sister company, One Stop Recycling Services, L.P. operates asphalt repair equipment in Texas and Mexico.
Heat Design markets its infrared equipment internationally. It has a wide range of product line from small patchers and recyclers to tackle the growing pothole problem worldwide, hot box/reclaimers to re-use waste asphalt and maintaining heat in the asphalt, larger truck patchers for hot-in-place patch repair, longitudinal joint heaters to improve construction of the centerline joint on roads. The recycling process meets today's requirement of maximizing recycling of products, as well as providing a better long term sustainability.
Infrastructure deterioration is a critical problem worldwide and Heat Design equipment helps owners get the maximum return on their pavement investment.
Source: Heat Design Equipment Inc.