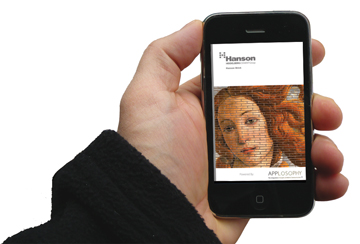 There's an App for Bricks Too...
Hanson Brick, in partnership with Applosophy, announces the Canadian launch of the My Hanson Brick mobile application for the iPad and iPhone. My Hanson Brick is available for download via the Apple Store and is designed to help builders, distributors, architects and homeowners with their brick cladding needs. Users will be able to browse entire product lines, create their own virtual brick showrooms, capture project details, access technical information and find addresses where they can view a particular brick style used on buildings.
"This application is all about helping our customers reduce the amount of time they put into the research and guesswork needed to make one of the most important design decisions involved in their project," said Charlie Ward, senior vice president and general manager of Hanson Brick. "We want to help our customers make the right brick choice faster and with as much information as we can bring to their finger tips while they are on the go."
The application developers could not agree more with the inventive approach Hanson wanted to take. "Our aim was to identify the uneconomical aspects in the way brick information was being exchanged among the whole spectrum of users," said Shai Cohen, the head of technology at Applosophy. "We wanted to create a platform that would transform the print catalogs into an interactive space in which Hanson could speed up communication and allow users to personalize to their needs."
With the creation of this innovative platform, vice president and general manager of Hanson Brick North Region, Leo Steffler, believes the application also supports Hanson's vision of sustainability.
"Right now in the Canadian market building with sustainable products and using green methods is a high priority" Mr. Steffler said. "With this app, the resources and energy used for selecting and ordering product can be significantly reduced and our clients will have more information about the sustainability of our products at their fingertips."
The App allows users to: access basic information about Hanson Brick products, search collections by regional availability and color, locate addresses where specific brick styles are being used, and view photos of completed projects using particular brick styles, among other things.
Source: Hanson Brick