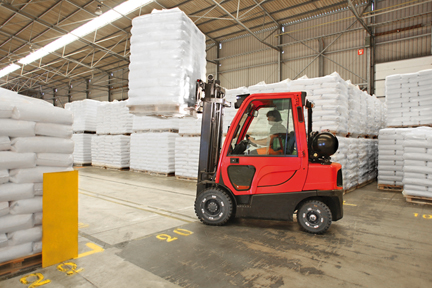 Continental CSEasy SC20 Convinces in Port Operations
Logistic specialist Katoen Natie (KTN) reports positive results six months after changing to the Continental Industrial Tire CSEasy SC20. In early 2012, thecompany, based in Antwerp, Belgium, started to equip most of their forklifts and reachstackers with special tires from Europe's leading industrial tire producer. "The product proofs to be extraordinarily reliable and it can be changed within seconds, thanks to the CSEasy technology. During the past six months, thenumber of tire related incidents could be reduced considerably, having a significant positive effect on our operating costs," says Danny Senecaut, working at Supply Chain Purchasing Services for the Fleet Department.
Whether small puncture or severe accident, any tire-related vehicle downtime causes loss of time in the precisely timed intervals of logistic businesses. At the Antwerp harbour, tires face much stress due to changing road surfaces, from old cobblestone with sharp edges to polished concrete. Thus, KTN decided to equip its vehicles with the Continental super elastic solid tires SC20 and CSEasy SC20, specifically constructed for rough working environments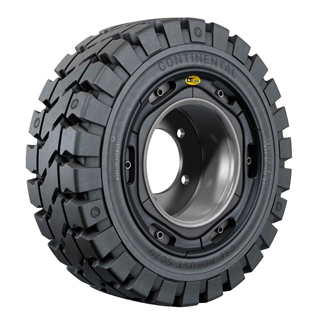 and high running hours. The robust construction and the great tread volume make the tires immune against sharp edges and spiky objects and guarantee a long service life. The deep profile provides good traction on slippery and flush surfaces. Two circumferential longitudinal grooves optimisethe cornering stability. Both qualities enhance safety during loading and unloading.
In addition to tire quality, service was a key factor for KTN: "The worst thing in our business is downtime. We are working around the clock and a broken-down vehicle produces nothing but costs," says Mr. Senecaut. "To avoid unnecessary costs, we need maximum product reliability and a service that is committed to solve problems instantly. Continental combines both." With the transition to Continental Tires, downtimes have been reduced significantly and the vehicles run more efficiently.
Mr. Senecaut sees the CSEasy-technology as the major asset of the tires. It makes them not only extremely durable, thanks to an especially developed adapter, they can also be changed within minutes without the help of a fitting press. The tire also features an improved amount of running hours of up to 40% and consumes some 6% less energy compared to competitor products. In combination, the CSEasy SC20 combines a long service life with reduced operating costs.
Source: Continental Industrial Tires