The Big Transit is Coming
to North America! Eventually.
According to the details of a tentative agreement between the UAW and Ford Motor Co., the Transit commercial van would be produced at the Claycomo plant, near Kansas City, Missouri, after a $1 billion investment from Ford. The plant now builds the Ford F-150 and the outgoing version of the Ford Escape/Mazda Tribute.
The model in question would probably be the fourth generation of the vehicle, due to arrive in Europe in 2012. We should get it by 2014, when it is due to replace the E-Series.
The Transit commercial van – not to be confused with the Transit Connect compact van – has been the best-selling light commercial vehicle in Europe for 40 years.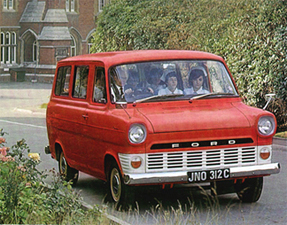 Since the Transit was launched in 1965, 6 million units have been produced across three generations. According to Top Gear, British police have reported that in the 1970s 95% of all robberies in which the criminals used a vehicle, involved a Ford Transit. Criminals, like commercial users must have appreciated the Transit's robustness, lively good handling and good power to weight ratio.
Its broad track gave it a huge advantage in carrying capacity over comparable vehicles of the day. Most of the Transit's mechanical components were adapted from Ford's car range. Another key to the Transit's success was the sheer number of different body styles and powertrain options.
The current version of the Transit is offered in front-wheel, all-wheel drive and rear-wheel versions depending on the GVW rating. It won International Van of the Year for 2007 despite tough competition from several all-new rivals.
The Transit is available in different sizes, the "Jumbo" van has a 4.1 m-long load floor. The Transit is offered with a choice of gasoline, LPG or diesel engines.