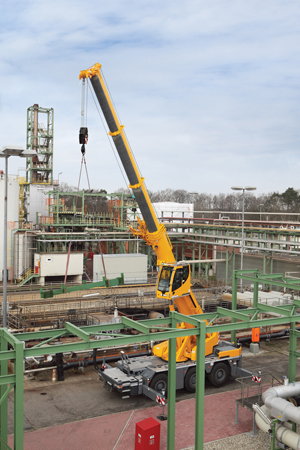 High Load Capacities
Where Space Is Restricted
At the 2011 SAIE in Bologna, Italy, the Liebherr Group was again exhibiting on an impressive 1,500 m2 stand. Visitors were able to see no fewer than nine exhibits from the current crane range, with many innovative solutions and advanced technologies.
One of the Liebherr exhibits at the 2011 SAIE is the three-axle LTC 1045-3.1, which has a maximum load capacity of 45 t. It has the excellent travel performance of a classic all-terrain crane and, thanks to its compact design, is also ideal for lifting loads where space is at a premium, for instance inside industrial buildings. With the boom luffed to a steeper angle, the LTC 1045-3.1 has a turning-circle radius of no more than 5.9 m.
To ensure optimal visibility for road travel, the crane cab is moved to the front on a telescopic arm and fixed in position mechanically. Visibility to the right is also unobstructed, because the lower edge of the telescopic boom remains above the driver's line of sight.
Conceived as an "all-in" crane, the gross weight of 36 t includes the complete working equipment, which means that this new three-axle model is ready to start earning its keep as soon as it arrives on the construction site. The LTC 1045-3.1 is powered by a Mercedes-Benz diesel engine with a rated output of 326 hp and a maximum torque of 958.83 ft lbf (1,300 Nm). The drive train includes ZF automatic transmission with 6 forward and 3 reverse gears. A torque converter permits smooth control of travel movements and very low creep speeds.
High lifting capacities over the entire working range are a feature of the new LTC 1045-3.1. The 8.2-36 m long telescopic boom consists of the pivot section and five telescoping elements; these are extended and pinned into position fully automatically by the "Telematik" control system. A 1.5 m long erecting fly jib that can be moved to an angle of 60° is integrated into the 7.5-13 m long double folding fly jib. The erecting fly jib and an optional second winch make the LTC 1045-3.1 ideal for erecting work even if available space is extremely limited.
A telescopically elevated crane cabin is available as an optional extra; it raises the operator to an eye level of 7.5 m and thus ensures good visibility during loading work, for instance at the docks.
Source: Liebherr