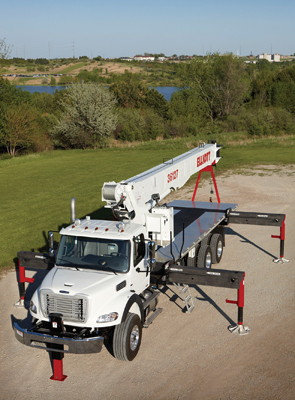 New Elliott 36127 BoomTruck
Features Best-In-Class Boom Length
Elliott Equipment Company is proud to announce the new 36127F BoomTruck for a wide range of customers in the lifting industry. The 36127F is designed to provide a best-in-class 34,500 kg of lifting capacity at a 1.5 m load radius and a maximum vertical reach of 41.75 m. It features Elliott's exclusive Ride-Around Control Console and DynaSmooth thumb throttle to give crane operators the smoothest operation available. The innovative turret design makes it possible to install an enclosed operator cab on both the front-mounted 36127F and the rear-mounted 36127R variant.
The 36127F BoomTruck includes a new aluminum bed for reduced weight, a 10.5 m retracted to 38.7 m extended 5-section boom, an internal anti-two block system, and an load moment indicator (LMI). The two sets of individually controlled out-and-down outriggers offer mid and full span load charts with a 6.45 m maximum outrigger spread. Operators that need additional reach can select the 9.75 m to 14.9 m two-piece jib with frictionless manual extension that stows alongside the boom.
Elliott Equipment Company offers a long list of optional accessories including an enclosed crane cab on both front and rear-mounted models, a two-person gravity leveled work platform, wireless radio remote controls, and much more.
The decision to develop the 36127F BoomTruck reflects a growing demand from the construction and utility industries for more lifting capacity and longer boom lengths on tandem axle truck chassis. The 36127F can be installed on a 30,000 kg GVWR tandem chassis and fills a void in Elliott's BoomTruck line between the 29 t and 36 t models, providing customers even more options for their businesses.
Source: Elliott Equipment Company