Chevrolet Confirms New Colorado Pickup for Canada
A version of the all-new, next-generation Colorado midsize pickup will be offered for sale in Canada. The first version of the truck is launching this month in Thailand, followed by launches in more than 60 other markets around the world.
"As the new Chevrolet Colorado is launched in markets around the world, it will generate a lot of excitement," said Marc Comeau, vice president, sales, service and marketing for GM Canada. "With its combination of design, capability and fuel efficiency, the new Colorado will be attractive to Canadian customers."
Product details, timing, pricing and the production location will be announced later but it will likely be the Spring Hill, Tennessee, plant where Saturn cars were built.
Click here to view video
The all-new global Colorado builds on Chevrolet's strong truck DNA and award-winning heritage, and the show truck versions generated significant attention at global auto shows in Thailand, Argentina, Australia and Germany. Thailand is the world's largest market for midsize pickup trucks.
In Thailand, the model lineup will include 2WD and 4WD regular, extended-cab and crew-cab variants. Gasoline and diesel engines will be available, including new 2.5 l i4 and 2.8 l i5 turbodiesel engines that produce broad torque bands engineered for excellent cargo and towing capability. Engine availability and model configurations for Canadian versions will be announced at a future date.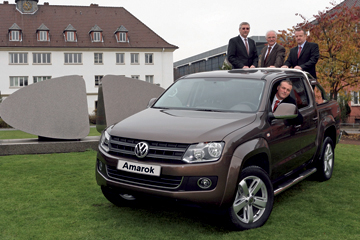 The new Colorado is part of a new wave of modern pickup trucks that started with the Volkswagen Amarok.
Built in Pacheco, near Buenos Aires, Argentina, since the end of 2009, the Amarok is sold in many markets around the globe, not yet in North America. To this day, over 100,000 units have been produced and production at the Volkswagen Commercial Vehicles plant in Hanover, Germany, should begin mid-2012.
The arrival of the Amarok shooked the industry because of the high level of refinement it brought to this market segment. It is offered in single and double-cab with two TDI engines including a bi-turbo version of the 2.0 l developing 180 hp.
An Amarok equipped with the eight-speed automatic transmission from the Touareg was shown at the IAA show in Frankfurt. Featuring a stop/start system, the truck would be rated at 7.6 l/100 km. With a torque of 310 ft lbf, the towing capacity would rise to 3.2 t.
Toyota, the maker of the HiLux/Tacoma that has dominated the segment for many years around the world should be worried. New models from Ford and Mazda are also coming.
The re-designed and re-engineered Ford Ranger was conceived from a clean sheet of paper. It will be built in Thailand and exported to more than 180 countries in both right- and left-hand-drive models. Again, no word yet from Ford if the truck is coming to Canada.
The new Ranger is offered in single, super and double cab version, with either a 2.5 l gasoline, a 2.2 l i4 diesel or a 3.2 l i5 diesel engine, with 6-speed manual or automatic transmission.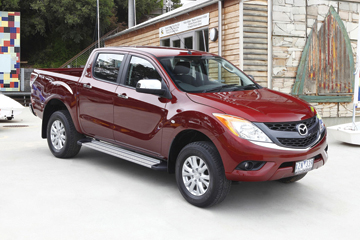 Working closely with Ford, Mazda has developped its new BT-50 pickup truck to be far more car-like than the Ranger, not unlike a Mazda 6 with a big open trunk.
The company targets males in the 30-49 age group who are more likely to be small business owners and have an "active lifestyle".
The truck's designer, Ryo Yanagisawa, looked to nature for inspiration when it came to shaping the BT-50 – more specifically, a picture of a lion.
As is the case with the Ranger, there are no plans yet to bring the BT-50 to North America.