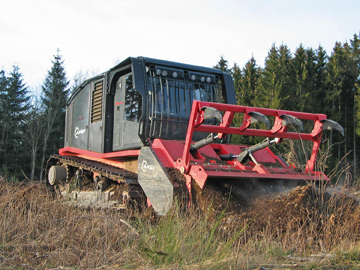 AHWI-PRINOTH Presents
the New Raptor 800 Mulcher
Specially developed for the most difficult tasks such as heavy clearing, vegetation management around pipelines and power lines, creation of firebreaks and re-cultivation tasks in professional plantation and forestry, the Raptor 800 perfectly combines productivity and reliability. Everything is designed for durability, ease of maintenance and a high level of efficiency, down to the tiniest detail.
"After a very intensive test phase, under the toughest conditions, during which the Raptor 800 faced challenges such as clearing in standing stock, removing logging residue and pulling up rootstock, the Raptor 800 performed convincingly," explained Daniel Chaput, regional manager for the Raptor 800.
The electronically-controlled Caterpillar C18 engine develops 630 hp and 2,042 lb ft or torque. The engine meets the EPA Tier 3 emission standard.
Optimum weight distribution and low center of gravity make the Raptor 800 the ideal low ground pressure tracked vehicle for all terrain conditions.
The new patented Powerbelt system that are driving the mulcher head increases the amount of power transferred from the engine to the mulcher head. Thanks to this new drive system, the result is significant increased productivity and cost savings.
The mulcher is connected to the tracked vehicle via a 4-point lifting gear and the attachment can be raised higher than most of mechanically driven mulcher heads, even at full load. The system therefore offers the ability to face every work situation in the best possible way. The mulcher achieves very good quality shredding and can tackle hard wood effortlessly, due to the combination of the large diameter of the drum and the arrangement of the teeth.
The newly developed delta tracks provide comfort for the driver and reduce vibrations. In addition, they provide an excellent self-cleaning effect and enable the vehicle to drive through water up to 50 cm deep.
AHWI-PRINOTH will exhibit and demonstrate Raptor 800 at DEMO International from September 22-23, 2012, in Saint-Raymond, Québec.
Source: AHWI-PRINOTH