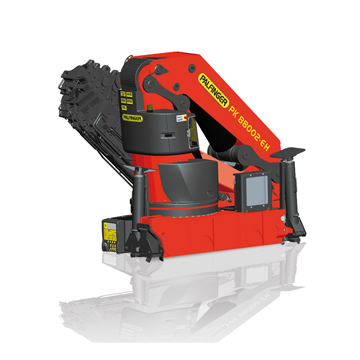 PALFINGER at Elmia Lastbil 2012
At Elmia Lastbil 2012, PALFINGER showcased both its product innovations and established systems on its two stands, including a World premiere for truck-mounted loader crane.
With the PK 88002 EH High Performance, PALFINGER is launching a new cost-effective heavy-duty crane model onto the market. A compact boom system with up to 9 hydraulic extensions, continuous slewing system and Power Link Plus equip this heavy-duty crane for a wide variety of assignments.
At the center of PALFINGER's truck-mounted crane performance is the intelligent and optimized "HPSC" stability control system. Visitors to the show were able to see the system demonstrated on a PK 34002 SH crane mounted on a demo truck.
A number of well-known lifting, loading and handling systems supplemented the range of truck-mounted cranes. Tail lifts, hookloaders and EPSILON recycling cranes were also on show.
Source: PALFINGER AG

---

About Elmia Lastbil
Elmia Lastbil is an international trade fair for the haulage and transport industry. It is held every second year in Jönköping, Sweden. In 2010, 421 exhibitors and 39,253 visitors participated at the show.

Source: Elmia