L.E. Launches DUOLEC Vari-Purpose Gear Lubricants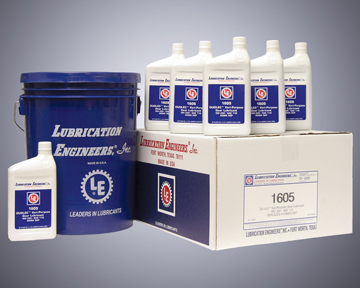 Lubrication Engineers, Inc. (L.E.) launches its latest exciting Enhanced Lubricant to the market. The new 1601-1609 DUOLEC Vari-Purpose Gear Lubricants (DVPGL) will supersede L.E.'s now legendary ALMASOL® Vari-Purpose Gear Lubricant.
This new product range offers L.E.'s customers significant performance improvements versus even the impressive ALMASOL gear oils. It includes L.E.'s new unique proprietary additive DUOLEC that was developed specifically for use in gear oil applications. The 1600 DUOLEC Series also provides many other benefits that this new gear additive technology is able to deliver including an incredible FZG Test 14th Stage Pass, Timken OK Load of 75 lbs, greater thermal stability, improved shear resistance, better water separation and the ability to be filtered to low micron levels without harming or removing additives.
The 1601-1609 DUOLEC Vari-Purpose Gear Lubricants contain L.E.'s new dimension proprietary additive DUOLEC - a 'dual acting' liquid additive that shares attributes of both L.E.'s ALMASOL and MONOLEC but offering even better wear protection. DUOLEC incorporates revolutionary new technology which is thermally activated to provide 'dual' levels of anti-wear and extreme pressure protection that form a solid-like protective layer on the metal surface. This layer then fills surface asperities, effectively smoothing the surface and minimizing the effects of any metal to metal contact thereby reducing friction and preventing welding and surface wear.
Testing for the friction reduction capabilities of DUOLEC was conducted using the SRV friction test machine. The test results showed a 25% reduction in friction over the base oil when DUOLEC was incorporated. As increasing numbers of O.E.M's are requiring more stringent cleanliness levels, this new liquid additive also allows the DVPGL line to be filtered to much cleaner levels.
The 1600 DUOLEC Series has been thoroughly tested and is completely compatible with the ALMASOL Vari-Purpose Gear Lubricant line that it is replacing - meaning that L.E.'s current gear oil customers should have no concerns about converting their gearboxes from ALMASOL to DUOLEC Vari-Purpose Gear Lubricants. They will just be able to enjoy the improved performance of a new dimension 'Enhanced Lubricant'.