Lee Specialties Unveils First E-line Combo Wireline Truck
Manufactured in Red Deer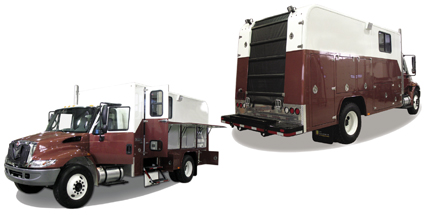 Lee Specialties Ltd. boldly rolled out its E-line combo wireline truck manufactured in the city of Red Deer; a manufacturing first for the Central Alberta region.
The design, production, and distribution of wireline trucks mark the next step in establishing a one-stop shop for wireline and coiled tubing products for the organization, as well as introducing another industry exclusive to Red Deer.
"The expertise in Red Deer to design, to manufacture, and to assemble products without outsourcing enables us to hire a wide range of talent to build an innovative product with global appeal. This elevates Lee Specialties to a more globally recognized organization," says Jim Lee, CEO, Lee Specialties Ltd.
"We are very proud to offer a 'Made in Canada' truck to add to our current product lines," says Milton Friesen, Lee Specialties Ltd truck shop manager, "The final product would not be possible without the combined efforts of the team and customer support."
Lee Specialties Ltd. designs and manufactures pressure control equipment, production logging tools, logging systems and related equipment for the cased hole wireline service industry. Established in Red Deer in 1999, the company serves the Canadian market as well as international markets, including China, United Arab Emirates, Russia, New Zealand and USA by providing superior customer service and quality 'Made in Canada' products.
Source: Lee Specialties Ltd.