Composite Quick-Connect Air Brake Fittings To Reduce Vehicle Weight And Leaks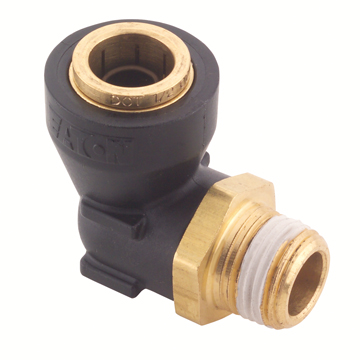 Diversified industrial manufacturer Eaton Corporation launches Composite Quick-Connect (Q-CAB) Air Brakes, part of the newly developed Q-CAB 217 Series. Offered through Eaton's Hydraulics Operations, the 217 Series features a composite body for impact resistance and exceptional strength.
Eaton's Composite Q-CAB Air Brakes are lighter than all brass-air connections and offer the same sealing when used with the SAE J844 Type A and B Nylon Dot Brass quick-connect fittings. The fittings' brass tube provides complete support for full airflow and allows ease of tube connection with low insertion force.
"These fittings exceed cold impact test requirements and have been field tested in extreme weather, from the Arctic to the desert," said Doris Showalter, senior product manager - Eaton's Hydraulics Operations. "The Q-CAB 217 Series is made of glass filled Polybutlene Terephthalate (PBT) for the very best chemical and ultraviolet (UV) resistance of any composite air brake fitting."
The composite Q-CAB Air Brakes meet and exceed industry requirements U.S. D.O.T. FMVSS 571.106-10, SAE J1131 and SAE J2494-3. The 217 Series fittings are also qualified with the unique Synflex® Eclipse multi-layer air brake tubing. The fittings are used for medium- and heavy-duty truck, bus and mobile off-highway air brake systems.
Eaton's Hydraulics Operations is a business segment of the Eaton Fluid Power Group. The business is a worldwide leader in the design, manufacture and marketing of a comprehensive line of reliable, high-efficiency hydraulic systems and components for use in mobile and industrial applications. Mobile and industrial markets include agriculture, construction, mining, forestry, utility, material handling, earthmoving, truck and bus, machine tools, molding, primary metals, automotive, power generation, port machinery and entertainment. Eaton's Hydraulics Operations provides customer-driven solutions under brand names such as Aeroquip®, Boston®, Char-Lynn®, Eaton®, Hydro-Line®, Vickers and Weatherhead®.
Source: Eaton Corporation