Cummins and Continental Surpass Production Milestone of Three Million Electronic Control Modules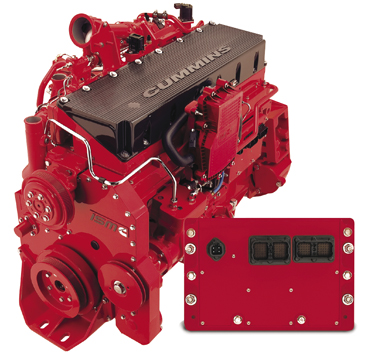 Cummins Inc. and the Automotive Systems Division of the international automotive supplier Continental AG recently announced that Continental has produced and delivered more than three million Electronic Control Modules to Cummins. This milestone was achieved during the first quarter of 2007 and confirmed during a recent review of the companies' year-to-date operations. Continental is the primary supplier of ECMs to Cummins.
Used to control a variety of engine functions, these electronic modules are instrumental in allowing vehicle manufacturers and industrial users of diesel engines to meet stringent emissions requirements and conserve fuel. ECMs also make it possible for Cummins electronic diagnostic products to read engine data quickly and conveniently.
In the nearly three decades that these ECMs have been fitted to Cummins engines, the functionality of the modules has evolved to become the nerve center of the entire engine. In fact, the microprocessor core contained in the ECM approaches the processing capability of a personal computer. Historically, the primary function of the ECM was to aid the fuel injection process; today the ECM serves multiple purposes such as controlling the entire fuel system, air handling, and aftertreatment functionality as well as recording fault codes. As the ECM has advanced technologically, it has decreased in physical size and its larger memory capacity has greatly increased processing speeds.
"We owe a debt of thanks to our customers for leading the growth of our engine production in America, said Christine Vujovich, vice president, Marketing and Environmental Policy for Cummins. "This customer loyalty is recognition that top suppliers such as Continental and its highly skilled workforce produce products of the highest quality, reliability and value - all of which are critical as we continue to raise the bar with engines that are highly integrated, durable, fuel-efficient and environmentally sound."
"Our team is excited to surpass the three million threshold," said Tom Tischhauser, vice president, Powertrain and Chassis for Continental Automotive Systems. "This milestone is based upon the achievement of the associates in our plants who challenge themselves every day to meet the high expectations of our customers."
Source: Cummins Inc.