BOMAG Single-Drum Rollers Feature Tier III Engines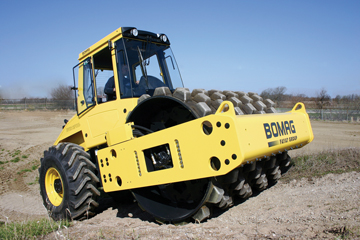 New 13-ton single-drum vibratory rollers from BOMAG feature Tier III compliant engines and vertically-opening hoods designed for easy access to engine and hydraulic components.
The new BW213-40 Series comprises three models: the BW213D-40 and BW213DH-40 smooth drum rollers and the BW213PDH-40 padfoot roller. The BW213D-40 is powered by a 133 hp Deutz water-cooled diesel engine. The BW213DH-40 and BW213PDH-40 are powered by 160 hp Cummins diesel engines.
The BW213D-40 and BW213DH-40 are designed for compaction of granular and mixed soils, while the BW213PDH-40 is designed for cohesive and semi-cohesive soils. All three units are ideal for a variety of site preparation applications, including highway construction and maintenance, airports, streets and subdivisions, parking lots and landfills.
Dual vibration frequencies and amplitudes allow rollers to be customized for different jobsite requirements. All three models deliver frequencies of 1800 and 2160 vpm 30/36 Hz), while each generates 275 kN of centrifugal force in high amplitude and 198 kN in low amplitude.
New features on the BW213-40 Series increase operator comfort and jobsite safety with an improved line of sight to the rear of the machine. The comfortable design of the vibration-isolated operator platform is enhanced with an ergonomically repositioned steering wheel.
Reduced stop-to-stop steering input makes steering easier and more comfortable for the operator. A 35° steering angle and 12° oscillation angle provide optimum maneuverability on the jobsite. Operation is further simplified with a single lever control for travel direction, speed and vibration.
Anti-Slip Control systems on the BW213DH-40 and BW213PDH-40 models monitor slip potential between the drum and rear tires to maximize traction and gradeability. As a result, they offer maximum gradeability of 55% with and without vibration. In addition, all three models feature a no-spin differential on rear axles for improved traction.
The BW213-40 Series features maintenance-free steering cylinder pins and travel bearings and a bolt-on articulation joint. The engine air intake is positioned high above the ground to increase filter life, and the hood opens vertically for easy access to the engine, hydraulics and service points.
Source: BOMAG Canada, Inc.