4×4 Off-Road Bus Wins Prestigious Design Award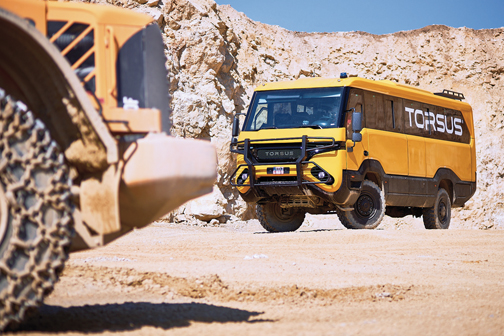 The Torsus Praetorian has been awarded a prestigious Red Dot Award in the Product Design 2020 category for its outstanding design quality.
Torsus, in partnership with independent transportation and industrial design studio Werkemotion, designed the Praetorian to transport personnel and equipment safely across the world's harshest environments, the Praetorian is based on an upgraded heavy-duty MAN chassis and is powered by a MAN engine and drivetrain.
It is engineered to take on any terrain, in any conditions, anywhere in the world. It utilises a gamut of heavy-duty features including Michelin off-road tyres as well as Line-X™ military grade coating on body parts.
For more than 60 years, the Red Dot Award has provided a platform for designers and companies to assess good design. Each of the 6,500 products entered into the competition, from 60 countries worldwide, were tested and judged by an expert jury in search of the very best in design and innovation. Over several days, the jurors test all the entries to assess the aesthetic, the materials selected, level of craftsmanship, surface structure, ergonomics and functionality.
"It's a privilege and an honor for us to be awarded the globally respected and admired Red Dot award, for the outstanding design of our iconic Torus Praetorian," said Vakhtang Dzhukashvili, founder and CEO of Torsus. "We are very proud to accept this award and it is testament to the skilled work of the Torsus team and our design partners at Werkemotion who, together, helped produce the world's toughest and most capable off-road bus."
Founded in 2016 Torsus is based in Prague in the Czech Republic. Its vehicles are manufactured in a purpose-built factory in Slovakia. It sells mainly to customers in heavy industry, utility and government service sectors. In addition to the core operations Torsus produces special vehicle variants according to customer specification – no limit is set on versatility.
Source: Torsus