Modul E-Drive Makes Manual Cranking a Thing of the Past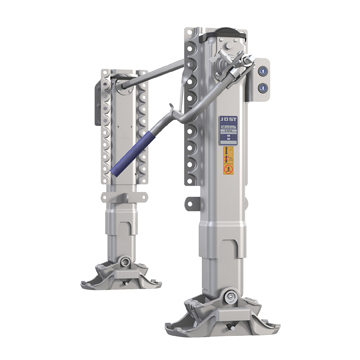 A trailer's landing gear, or support leg, is a critical structural element in any trailer's design, having a significant impact on daily efficiency and overall fleet availability. Subjected throughout the day to a combination of vertical and horizontal loads, particularly during the loading of uncoupled trailers, and frequently working in harsh environments, the best designs take these stringent demands in their stride and deliver convenience, workplace safety and efficient coupling/decoupling of the trailer.
JOST landing gears are extremely versatile and have proven themselves time and again in daily use. Virtually any customer specification can be satisfied thanks to the flexible and modular design of the Modul series. The range includes landing gears both for standard applications (Modul B) and for special applications (Modul C). All landing gears in the Modul series have a patented drive whose internal design provides optimum protection, eliminates the need for maintenance and offers many other advantages during operation.
The modular design allows a variety of versions with different mounting and bolting heights, crank and connection shaft lengths, and foot types. All Modul landing gears are protected against environmental influences and falling rocks by a high-quality powder coating.
But there are times when access to the landing gear is restricted or when the trailer needs to be coupled and decoupled frequently.
To address these requirements, JOST has developed the Modul E-Drive electric landing gear. Easy to operate at the touch of a button, the Modul E-Drive shuts down automatically in the event of ground contact or when the landing gear is fully retracted. If needed, manual cranking of the landing gear is still possible, using the crank handle.
The electrical landing gear operates effortlessly at outside temperatures as low as -20°C. It incorporates the highly-reliable Modul components and is available in the same mounting heights, feet and bolting heights as Modul B. Thanks to the long-term lubrication applied in the factory and the wear-resistant design, life-cycle costs are very low.
Source: JOST UK Ltd.