Volvo Gives Used Parts a New Lease On Life
Chloe Doyle, on behalf of Volvo Construction Equipment
Special Collaboration
---

To lower emissions, save resources, lower costs and help protect the environment, Volvo Construction Equipment (Volvo CE) is offering customers a range of revitalized components with its Volvo Reman program.
In the name of both environmental care and lowering costs, more and more people are willing to recycle, reuse and make the best use of limited resources. Volvo CE feels this should be no different in the construction industry – evidenced by the Volvo Reman program, arguably one of the company's most resource-friendly initiatives.
The Reman program takes machine components that have reached the end of their "first" useful lives and remanufactures them using high quality genuine Volvo parts, resulting in a good-as-new component that gives the customer all the reassurance of knowing it is guaranteed by Volvo – and all the machine up time, long service life and lower owning and operating costs that go with it.
The potential savings are incredible. When stripping back an old engine, for example, 80% of the original parts are reused, meaning that the steel is not destined for the scrap yard, but used for many more years. To remanufacture a component, Volvo CE reuses, on average, 85% of materials and lowers energy consumption by 80% when compared to producing a new component.
First established in 1992, the program has grown to consist of three separate portfolios: Factory Remanufactured Components, Components for Classic Machines and Exchange Services (currently only cleaning Diesel Particular Filters in Tier 4i/Stage IIIB engines). "While Factory Remanufactured Components are given new life, Classic Components are processed to outlive the machine," says Magnus Kaup, Global Product manager for Volvo Reman.
"This concept is valid for classic Volvo wheel loaders and articulated haulers that are about 10 years old or older and the components range from transmissions, drop boxes and engines, all subject to availability. It's offered to customers at a lower price than Factory Remanufactured Components – but backed with a full Volvo warranty."
The program's Exchange Services involves customers swapping their full Diesel Particulate Filter for a factory cleaned Reman DPF from Volvo CE. While the machine is fitted with a cleaned DPF, the full filter is sent to a central Volvo remanufacturing hub where it will be thoroughly cleaned to 95-98% of its original capacity and reordered by another customer, creating a virtuous refurbishment cycle.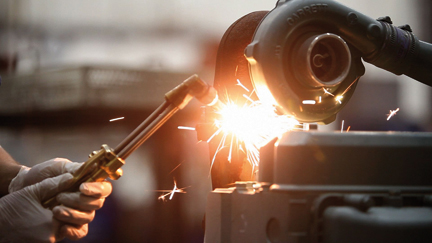 Reman remains popular
"During the early years of its development Volvo Reman was only available to customers within the European Union," says Ehsan Soltani, Global product manager for Volvo Reman. "It also only included engines and transmissions. Since then, the program has been extended to many markets and is proving to be a huge success."
Now, Reman's Factory Remanufactured Components allows customers to buy remanufactured components such as engines, turbochargers, transmissions, and final drives to crankshafts and hydraulic pumps.
Much more than a "quick fix", these factory remanufactured components have had all the upgrades and technical modifications since it was first produced as a standard practice.
Better than when new
When a Volvo facility receives the part, it is completely dismantled and inspected, cleaned using advanced equipment and processes. Any parts that are damaged or do not conform to Volvo's wear tolerances are replaced with Genuine Volvo Parts, the component is reassembled and tested to meet Volvo's stringent quality standards, and the part is painted to give it the same protective finish like any other new part.
"Volvo CE's Reman stands out from the crowd," believes Mr. Soltani. "The most important thing is that we communicate the benefits of the program properly, because if a customer does not understand that a Reman component is at least as good as a new, with all the warranties, at a lower price, offering a quick exchange with minimal downtime – and helping reduce environment impact, then they won't look into the possibilities."
Impressive craftsmanship distinguishes remanufacturing services like Volvo Reman – so you are not really getting a secondhand component, instead you're getting a "like-new" part – with a touch of extra experience.