World's Largest Rooftop
Solar Power Station
Veolia Environnement and Clairvoyant Energy are building a solar power station with a capacity of 10 MW at GM's Zaragoza, Spain, plant, which assembles more than 480 000 vehicles a year. As part of the scheme initiated by GM, the rooftop power station will be owned and operated by a joint-venture company comprised of Veolia Environnement, Clairvoyant Energy and the Government of Aragon.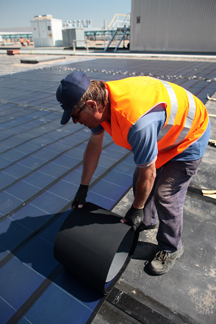 Annual output from the photovoltaic solar power station is expected to be 15,1 million kWh, sufficient to meet the demand of 4600 households.
Operational at the end of September, 2008, the rooftop power station will feed electric current into the local grid of Red Electrica and sell the energy to Endesa.
The massive solar array designed by Veolia Environnement and Clairvoyant will consist of 85 000 light-weight solar modules with an active photovoltaic surface area of 183 000 m2 and provide for an annual reduction of 6700 t in CO2 emissions. The solar power station on the roof of the Zaragoza plant is the third one on GM facilities worldwide.
For Veolia Environnement, world leader in environmental services, this operation is a perfect illustration of its ability to accompany its industrial customers in their most ambitious projects, while developing precious expertise in the solar energy field. It demonstrates how environmentally-friendly solutions can be economically viable for customers. For this large and complex project, Veolia Environnement applies its technical and overall management expertise in the engineering, construction, approval process phases, as well as system operations maintenance.
Source: Veolia Environnement