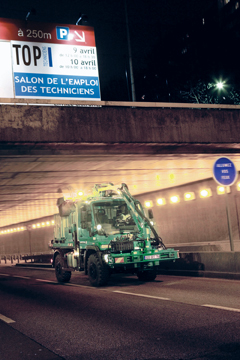 The Unimog Is Used to Wash The Tunnels of Paris
The road maintenance department of the municipal cleaning services in the French capital - Propreté de Paris - will soon be working with the Unimog. To this end the municipal authority in Paris purchased a total of nine Unimog U 400 with tunnel washing units supplied by Mulag and demountable spreaders, snowplows and snow clearance units by Schmidt Winterdienst- und Kommunaltechnik GmbH in St. Blasien (Black Forest). The total investment for this innovative vehicle and implement technology was around €2,3 millions. The Unimog are produced at Daimler AG's Mercedes-Benz truck plant in Wörth a. Rh. (Rhineland-Palatinate). Most of these vehicles have now been delivered, and are in service with Propreté de Paris. The enormous range of tasks carried out by the cleaning services in Paris and their 8000 employees can be illustrated by three figures: each day they dispose of 3000 t of waste in the city area, and clean 1400 km of roads and 2800 km of pavement.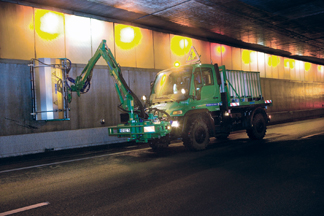 The Mercedes-Benz Unimog U 400 are equipped with dual-circuit hydraulics and PTOs for the implements, and are powered by a 177 hp four-cylinder BlueTec engine (Euro 4) with SCR diesel technology which drastically reduces nitrogen oxide and particulate emissions while optimising fuel consumption. The boom of the FME 600-T tunnel washing unit by Mulag has a range of 5,5 m to the right or left. It is designed to clean walls, ceilings and continuous lighting strips in tunnels and subways. Its automatic, electronic scanning system with ultrasonic sensors precisely adapts the washing brush to the structure of the surface to be cleaned. The boom head can be fitted with either a brush or a spray bar. In order to avoid time-consuming refitting, Propreté de Paris plans to operate three vehicles with brushes and six with spray bars, together with the appropriate tank bodies.
The up to eight-lane wide Boulevard Périphérique, which was built between 1954 and 1973 to encircle Paris, channels the enormous volume of traffic around the French capital and into its center. To clean the well over 30 tunnels with 720 000 m2 of tunnel surfaces in each direction, the traffic must be diverted and the relevant section of the Boulevard Périphérique closed down completely. For this reason the 100 or so workmen responsible for this task only work at night. During the period from November 15 to April 15, the Unimog are mainly equipped with winter service implements. Though snowfall is a rare occurrence, even the slightest touch of winter inevitably leads to traffic chaos in Paris. "Tunnel-washing days" are exclusively between April 15 and November 15. A backlog needs to be coped with when all nine vehicle/implement units have been delivered, however.
Source: Daimler AG