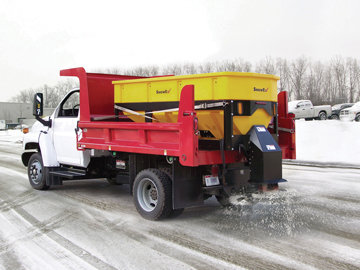 SnowEx Introduces Its V-Maxx 9500
SnowEx, a product division of TrynEx International, introduces the new V-Maxx 9500 - its largest V-box-style spreader to date. Featuring a 3 m3 capacity hopper, the entirely electric powered V-Maxx 9500 is ideal for municipalities and winter maintenance contractors catering to larger applications.
Designed for use with larger commercial-duty pickups, flatbed trucks and dump-bed trucks, the V-Maxx 9500 features an all polyethylene-constructed material hopper that boasts the patented SnowEx Material Feed System - consisting of a multi-angle hopper design, heavy-duty auger drive, inverted-"V" baffle configuration and an attached vibrator.
The System's multi-angle hopper helps provide a continuous flow of material to the auger drive. When compared with conveyor-driven spreader alternatives, augers deliver material to the spinner more accurately and efficiently. The vibrator shakes the inverted-"V" baffle, which helps reduce material clumping and ensures that the entire load does not rest on the auger. The result of this combination of components is a continuous material flow whether spreading 100% sand, 100% salt or any combination in between.
Furthermore, the poly hopper construction eliminates the corrosion concerns and constant maintenance commonly associated with steel-built alternatives. Though the hopper features heavy-duty, thick-walled construction, it is still up to 40% lighter than similar capacity steel spreaders, which frees up vehicle payload and increases gas mileage.
The innovative cab-mounted spinner/auger control allows for independent spinner speed and auger speed adjustment. By being able to adjust how fast material leaves the hopper and how fast the spinner propels it, virtually any application demand can be met while minimizing material waste. Spread width is infinitely variable between 3 to 12 m. A digital LED display with status monitoring and system protection is standard, as well as an auto-reverse function in the event of auger jams.
As with all SnowEx V-box-style spreaders, the V-Maxx 9500 is built with a Quick-Connect spinner assembly that allows the spinner assembly to be removed by simply removing a pin.
Source: TrynEx International