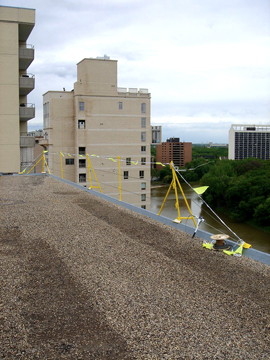 Not falling for you!
Have you ever looked up and wondered how so many workers can function efficiently and safely on many of the tower blocks and high rise apartments that you pass every day? Well Garlock Equipment thought about this and developed the Fall-Ban cable guard safety system.
Recently, these revolutionary worker safety systems have been appearing across the Prairie Provinces, in large part due to the efforts of FRS, the Authorized Garlock Dealer for Western Canada. FRS, which is headquartered in Winnipeg, has made it their mission to help western contractors improve productivity and safety simultaneously. This dedication to customer service is often demonstrated by a willingness to get on the job and train workers on how to do things better. So, keen is Richard Jones of FRS, he can often be met on a rooftop, 11 stories up on this blustery Winnipeg day!
When asked why he felt this was so important, Richard Jones told InfraStructures... "We have a desire to set a high standard in customer service. This is not just paying verbal tribute to the concept, it means doing what the customer needs doing when, and if, possible. Too many suppliers take a sit back and see approach, not FRS." On this particular occasion he was working with Kevin from Normandeau Roofing, on a day that was so gusty and overcast, that the crew had been sent home.
According to Kevin, "We certainly appreciate this level of service, and as it turns out the product is so simple I may have done ok without this visit. Regardless, now that I have seen it done, and had my questions answered I can get on with the project. I have been so impressed by this system that I have already recommended to my boss that we order a 400' system for this and other upcoming jobs." Fall-Ban is unique in the industry and is the only OSHA approved, wire rope based fall restraint system available on the market today. This has been recognized not only by contractors like Normandeau, but Ontario Power Generation (Ontario Hydro) who is also a big user of the system.
Anywhere a non-permanent fall protection installation is required, Garlock Fall-Ban is able to assist. Using a system of standard components that can be assembled in any configuration, Fall-Ban is suitable not only to roofs, but to bridge decks, concrete forming and other projects that require freedom of movement and fall protection at the same time. To further assist in the safe installation of both permanent and non-permanent systems, Garlock has introduced the Raptor Fall Arrest Cart. Now, you can tie off to an approved cart that is easy to handle, while you approach the edge and install Fall-Ban, Railguard, or other items.
"We have long been impressed with the quality, durability and innovation that Garlock offers our customers. The commitment to safety products with the Garlock name has really positioned FRS to be a leader in this field in Western Canada..." adds Richard Jones.
Source: Garlock Equipment Company