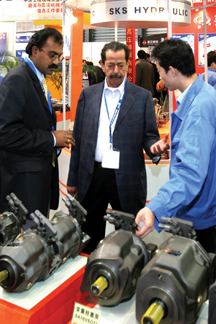 bauma China Continues to Grow
Demand for exhibition space at the upcoming bauma China 2008 at the Shanghai New International Expo Center is higher than ever. On a total exhibition space of what has now increased to 200 000 m2, according to the current status of planning more than 1200 exhibitors can exhibit at this year's fair. Compared to the 2006 exhibition, that corresponds to a 33% increase in space and an approximately 10% increase in the number of exhibitors. Additionally well-known international key players are strengthening the various exhibition sectors.
For the first time ever, companies such as Doka, Halfen, MAN, Scania, Piusi, Lissmac, Texnocat, Long Gong and Jiangsu World will present their product portfolios at bauma China in November 2008. In addition, joint exhibits from Germany, Great Britain, Finland, Italy, Spain, Korea and the USA will give several first-time exhibitors a chance to make new contacts with the audience of trade visitors. Demand for exhibition space remains high, and according to exhibition director Collin Davis, some 250 additional interested companies are on a waiting list.
A good number of the trade visitors who attend this year's fair are expected to come from countries other than China. In 2006, Japan was the most strongly represented country, accounting for 15% of the visitors, followed by Korea at 10% and India and Russia at 7% each.
bauma China is the most important trade fair for the construction and building-materials industries in Asia. In 2006, a total of 1088 exhibitors presented the complete range of construction and building-materials machinery on an area of 150 000 m2 at one of the most modern trade fair centers in Asia, the Shanghai New International Expo Center (SNIEC).
Source: Messe München GmbH