Mack To Add SCR To Meet EPA 2010 NOx Emissions Requirements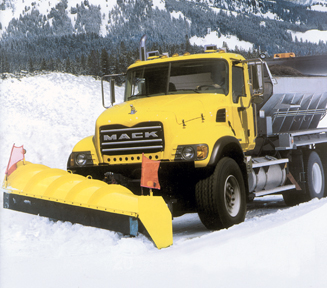 Mack Trucks, Inc. announced today that it will use a combination of proven exhaust gas recirculation (EGR) technology and selective catalytic reduction (SCR) to satisfy the nitrogen oxides (NOx) portion of the federal diesel engine emissions regulations scheduled to take effect in 2010.
The 2010 regulations, developed by the Environmental Protection Agency (EPA) in the United States, call for NOx emissions levels to be reduced more than 80% from the standard set to take effect in January 2007.
The base engines for Mack's 2010 solution will be its MP series, which utilize High-Performance Exhaust Gas Recirculation (HEGR) to meet current and 2007 NOx standards.
Mack also confirmed that its EPA 2010 solution will feature the diesel particulate filter (DPF) being deployed for 2007, as the required particulate matter emissions levels remain the same for 2010.
SCR is an aftertreatment system that involves injecting a liquid urea solution into the engine exhaust stream to break down NOx. Manufactured primarily from natural gas, urea is a readily-available, soluble nitrogen-based compound widely used in agricultural fertilizers and considered a nonhazardous substance by the EPA.
"We're confident that the combination of HEGR and SCR is the best choice for our customers," said Mack president and CEO Paul Vikner. "This solution offers an efficient and effective means of meeting the required NOx emissions levels in the EPA 2010 regulations. We intend to continue working closely with EPA and other stakeholders to finalize the infrastructure to ensure the widespread availability of urea to our customers."
Mr. Vikner added that Mack has been successfully running SCR systems on prototype trucks since 2000, logging more than two million miles on ten customer vehicles. He also noted that Mack's parent, the Volvo Group, has logged more than 23 million miles of SCR road testing in Europe, and this year began production of SCR-equipped vehicles to meet the Euro 4 emissions standards that take effect October 1st, 2006.
"Our experience indicates that vehicles utilizing SCR can achieve better fuel economy than those using only EGR for NOx control, while at the same time meeting the dramatically lower emission standards coming in 2010," Mr. Vikner said.
Source: Mack Trucks, Inc.