London Machinery Launches New Web Site With Innovative Configurator Tool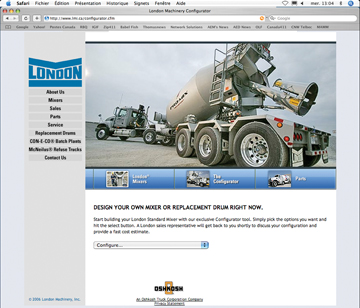 London Machinery, one of North America's leading manufacturers of concrete mixer trucks and replacement drums, has launched its new expanded web site at www.lmi.ca.
The all-new site features an industry-exclusive Configurator tool that provides ready mix producers the ability to design and build specs for a London® Standard Mixer, selecting from a range of chassis, drum sizes, pump mounts, controls, hatches, water tank sizes, chute extensions and much more. The tool also allows the customer to view and choose options such as a chute assist, LED lights, chute stopper, work lights and a rear deck cover. Once the form is completed and submitted, a London sales representative will then quickly provide a quote to the customer.
A second configurator tool for replacement drums allows ready mix producers to enter measurements for their existing drum and then specify the thickness, gearbox, inspection hatch, drum assembly and options such as surge blades.
The new site also provides information and links to McNeilus® refuse trucks, Oshkosh® S-Series front discharge mixers and CON-E-CO® batch plants. All of these brands are now exclusively available in Canada through London Machinery.
"Our new London web site reflects our tremendous growth and commitment to providing quality information and support to our customers," said Larry Magill, general manager at London Machinery. "The new Configurator tools have already proven themselves to be a valuable resource in helping ready mix producers save time and improve productivity."
Source: London Machinery Inc.