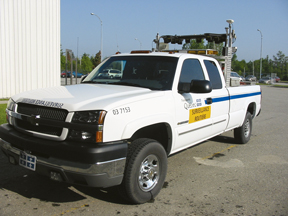 Technology - How Cold Is That Pavement?
Public works departments and other agencies are working on minimizing their use of road salt while continuing to keep roads safe for winter driving. In recent years, they have implemented innovative techniques such as combining rock salt with pre-wetting liquids to ensure the salt adheres to the pavement, and adjusting application rates more precisely to differing temperature and snow conditions.
To apply these methods, it is essential for road managers to receive accurate and timely information about, among other things, pavement temperatures. It is within this framework that the Integrated Center for Monitoring (ICM) was created by the Ministry of Transports of Quebec (MTQ), back in 2003.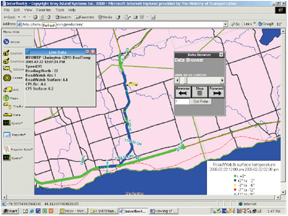 The Ministry of Transport of Ontario (MTO) is developing software to improve maintenance operations that will automatically display pavement temperatures on a web-based mapping program. The system can be used to make decisions on whether to adjust salt application rates, and if so, by how much.
Fixed antennas or an automatic vehicle location (AVL) system, mounted on patrollers' trucks, retrieves pavement temperature readings that were measured by infrared thermometers. The pavement temperature information is relayed to a central computer every few seconds by a GPS-based cellular communication link. The temperature data is then recreated on a map that is accessible by the road manager. Pavement temperature ranges are plotted in different colours along the route (temperatures above +2°C, temperatures in the +2°C to -2°C) to help determine the need for road salt.
The automated display of pavement temperature will provide the necessary information regarding road and weather conditions which can even be transmitted directly to the spreader to adjust the rate of application according to predetermined ratio.
These advancements in technology have many impacts. They can improve highway safety, reduce costs and minimize environmental pollution.
Source: Ministry of Transports of Ontario