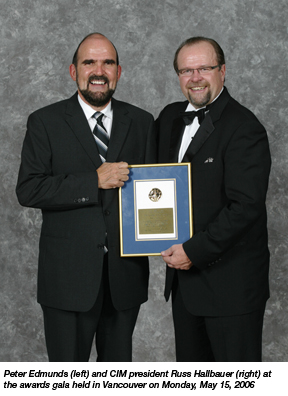 Peter Edmunds awarded
the CIM Distinguished Service Medal
Peter Edmunds, Business Development manager for Atlas Copco Construction and Mining Canada, has been awarded the CIM Distinguished Service Medal, the highest honor given by the Canadian Institute of Mining, Metallurgy and Petroleum.
This gold medal was inaugurated in 1957 as an award for distinguished or meritorious service to the Institute and the mineral industry.
Canada's minerals industry has entered a new era of technology, sustainability and corporate governance, and the individuals leading the pack and leaving their mark were honored at the event. Thanks to visionary people like Peter Edmunds, the Canadian minerals industry maintains a competitive edge in the global marketplace.