Overwashing of Existing Cables using HDD Horizontal Bore Rigs
---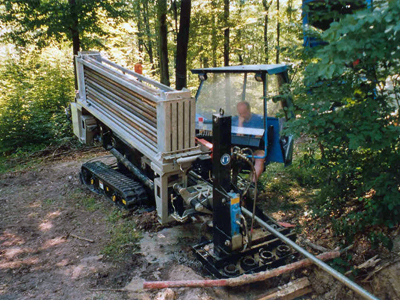 Dr. Hans-Joachim Bayer, Tracto-Technik GmbH
Special Collaboration
Trenchless pipe exchange methods have been available for numerous years, mainly for house connections and network pipes, especially for water, natural gas and sewage. These exchange methods often involve splitting, separating, bursting or replacing the old pipe, whereby old pipe sections are continuously pulled out or pressed out of the soil or remain split open inside the soil.
In the underground cable field there has also long been the request for trenchless exchange methods, especially as large quantities of cables from the 60's and 70's with faulty casings or with insulation damages incline to cause short circuits and need to be exchanged. Energy suppliers are nowadays often judged by their conscious approach towards the environment. That is why environmental friendly and cost saving installation techniques are preferably applied.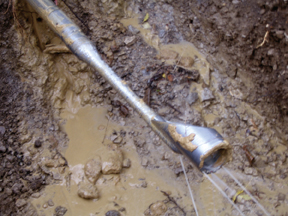 Meanwhile the method technology for a trenchless exchange of underground cables has been developed to a large extent. Due to the so-called overwashing method the old cable can be bored free in long, economical construction lengths, pulled out and then a new cable can be pulled into the bore hole of the previous old cable.
So far there are five different overwashing methods for the trenchless exchange of old cables, but also for the exchange of old pipes. FlowTex, together with ABB AG in Mannheim developed an overwashing method in the 90's, and also the company Leonhard Weiss in Göppingen. Single cable lengths were overbored and exchanged using the FlowTex/ABB method. Due to the technical constraints of certain cable backfill types and also in certain soil conditions, there was never any routine job tasks.
Tracto-Technik has developed a total of three overwashing on-line cable replacement methods in recent years and has had them protected with patents. Using the proven TT-overwashing method, trial jobsites have shown very good results, which means that this TT method has the potential for routine applications. The expertise, as is usually the case, is based on the detail of the method of working and on the professional handling of the overboring tools and the overboring process itself.