Nomination
McCloskey International a le plaisir d'annoncer la nomination de Jackson Ault en tant que représentant régional pour la province de Québec.
Depuis sa mutation au Québec, il y a huit mois, il visite des chantiers dans l'industrie des carrières et de la terre afin d'évaluer les besoins de la clientèle pour les cribles plats et à tambour McCloskey. Auparavant, il représentait la compagnie McCloskey dans les régions de l'Est et du Nord de l'Ontario.
Ayant vécu en Suisse, Jackson Ault peut communiquer aussi bien en français qu'en anglais.
Monsieur Ault se rapporte directement à l'usine McCloskey de Peterborough, en Ontario.
Source: McCloskey International Limitée, (705) 931-0149
---
Suite à la croissance qu'elle a connu au cours des derniers mois, Benco MFG Industries Inc. ajoute deux nouveaux membres à son équipe pour suffir à la demande et maintenir un niveau de service à la hauteur des attentes de ses clients.
Ainsi, Eric Leblanc se joint à l'équipe à titre de directeur des ventes et du marketing. Son défi premier sera de développer les marchés de l'Ontario et du Nord-Est des États-Unis.
De plus, à titre de directeur des opérations, Luc Bouchard veillera aux approvisionnements et à la production.
Benco MFG Industries Inc. conçoit et fabrique une gamme de tracteurs utilitaires pour une clientèle industrielle et municipale. La robustesse et les dimensions réduites des Benco TU-900 et TC-904 à châssis articulé, en font de porte-outils exceptionnels pouvant être utilisés 12 mois par année.
Source: Benco MFG Industries Inc., (450) 447-8575
Appointment
McCloskey International is pleased to announce the appointment of Jackson Ault as the company's regional sales representative serving the Province of Quebec.
Since Jackson Ault first transferred to Quebec eight months ago, he has been visiting worksites in the quarry and soil industries to assess customer needs for McCloskey flatdeck screeners and trommels. Previously, he represented McCloskey products in the Eastern and Northern Ontario regions. A former resident of Switzerland, Jackson is fluent in both French and English.
Ault will report directly to the McCloskey factory in Peterborough, Ontario and may be contacted directly by telephone at 1-705-931-0149.
Source: McCloskey International Limitée, (705) 931-0149
---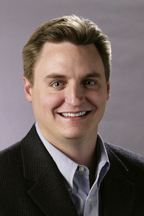 The Toro Company has named Scott Cornwell national sales manager for its Toro® Dingo® compact utility loader product line.
In his new position, Mr. Cornwell will focus his sales leadership skills on the continuing growth of the expanding Toro Dingo family.
For the past three years, Mr. Cornwell served as a national account manager in The Toro Company's corporate accounts group, where he focused on developing strategic landscape contractor accounts and alliances. Prior to joining Toro in 2003, he successfully managed national sales and marketing teams for several successful high-growth technology ventures located across the United States.
Mr. Cornwell holds a bachelor's degree in business administration from The Citadel in Charleston, South Carolina, and in May 2007 will graduate from the University of Minnesota's Carlson School of Management Executive MBA program.
Source: The Toro Company
---
Chuck Martz has been named CEO of Link-Belt Construction Equipment Co. in addition to his current responsibilities of President. The announcement was made in ceremonies in Tokyo, by Mr. Y. Hinou, chairman of Sumitomo Heavy Industries, Link-Belt's parent company.
Chuck Martz began his career with Link-Belt in 1975 in his hometown of Lexington, Kentucky after graduating from the University of Kentucky in 1973. He held various accounting and financial positions and was named vice president, Finance and Administration in 1990. In 1994, he was named vice president of Manufacturing and in 1998, Mr. Martz assumed the responsibility of president of Link-Belt Construction Equipment Co., which is a stand-alone subsidiary of Sumitomo Heavy Industries.