Education Opportunities Abound at ICUEE 2007
Co-Located UCT Education Program a Key Feature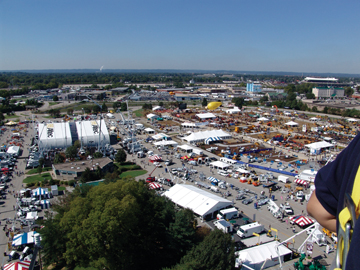 The 2007 International Construction and Utility Equipment Exposition (ICUEE) will offer attendees a wider variety than ever before of pre-show and at-show educational sessions targeting underground, above-ground and overhead applications.
ICUEE 2007, also known as The Demo Expo, will be held October 16-18, 2007 at the Kentucky Exposition Center in Louisville, Kentucky. The show will also feature hands-on working equipment demonstrations and more than one million net square feet of the latest in equipment, technologies, products and services.
A cornerstone of ICUEE 2007 education will be a special co-located education program conducted by Underground Construction Technology (UCT). UCT is the respected industry authority known for benchmarking education and training programs related to underground construction and rehabilitation infrastructure.
Seminars on above-ground and overhead equipment technologies and trends will complement the UCT offerings. New for the 2007 ICUEE is that all show seminars will offer Continuing Educational Units (CEUs) credit to attendees.
ICUEE 2007 education is geared to meet the professional-development needs of all industry segments: electric, sewer/water, phone/cable, gas, general construction, government and landscaping. Session topics will be grouped into tracks, including industry trends, equipment/fleet management, safety and standards, and management issues.
The latest details are on the show website (www.icuee.com), and attendees can sign up online. Ticket packages are available to allow attendees to customize their ICUEE education experience, and advance registration offers cost savings.
Attendees receive extra value by participating in pre-show programs that will start just prior to the opening of ICUEE 2007. These include an advanced horizontal directional drilling (HDD) workshop conducted by UCT and two certification courses from the U.S. Occupational Safety and Health Administration (OSHA).
Other educational opportunities at ICUEE 2007 include a Trench Rescue Awareness Program from the National Utility Contractors Association (NUCA) and a Fiber Restoration Exhibit by the North American Telecommunications Damage Prevention Council (NTDPC), as well as a field trip to the McAlpine Locks and Dam.
The NUCA Trench Awareness Program will help contractors and rescue personnel better understand trench safety issues, including hidden hazards associated with trench rescue operations.
The NTDPC exhibit will include live fiber optic splicing as part of its overview on what forms an underground fiber optic telecommunications network and what is required to repair it when damaged.
The educational field trip to the McAlpine Locks and Dam will focus on the site's nearly complete reconstruction project by the U.S. Army Corps of Engineers. Also on the tour is the adjacent LG&E Hydroelectric Plant and Louisville repair station for port equipment.
Details of Educational Programming at ICUEE 2007
The UCT pre-show advanced horizontal directional drilling training school is aimed at both the seasoned driller wanting a refresher course as well as the novice seeking to improve knowledge and capabilities. It is structured to help utilities and engineers better understand application and efficient operation of HDD projects.
The OSHA 10-Hour Construction Course will be conducted by Eastern Kentucky University's OSHA Training Institute Education Center. The course provides an awareness of construction safety and health principles, including OSHA policies, procedures and standards. The OSHA Excavation, Trenching and Soil Mechanics Course focuses on a better understanding of OSHA standards and safety issues related to excavation and trenching. The course includes a one-day field exercise.
In the ICUEE 2007 seminar tracks, equipment and fleet management topics include alternative fuels and emissions, vehicle specification and procurement issues, bucket truck maintenance and inspection requirements and hybrid technology applications. Sessions in the safety and standards track include work zone compliance, digger derrick standards, arc flash and flame resistant clothing, and National Electric Safety Code and OSHA construction standard updates and changes.
Industry trends topics cover areas such as telecom infrastructure issues, landslide and erosion stabilization technologies, security on the jobsite, vegetation management and utility design/construction. And, management trends issues covered include communication styles, leadership strategies for optimum crew performance, and motivating and retaining employees.
UCT sessions cover new technologies related to FTTX and electric equipment and underground utility equipment, fiber optic cable installation, private fiber, converting overhead to underground, matching compact equipment with utility application, pipebursting, mud mixing and recycling systems, evaluating used trucks, new keyhole methods and service connections, enhancements for tools, vacs and coring equipment, a variety of HDD issues including role in overbuilds and locating sewer laterals for HDD, and updates on OSHA underground construction programs.
The complete schedule is online or available in the ICUEE 2007 registration brochure.
Source: International Construction and Utility Equipment Exposition (ICUEE)