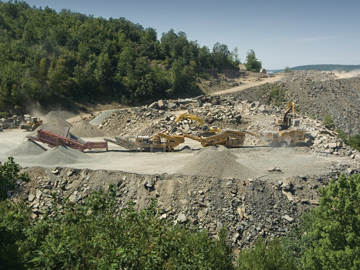 Extec Showcasing 5 New Products
at Hillhead!
With excellent mobility and productivity at their core, the Extec machines have been able to offer the best crushing and screening solutions to thousands of sites worldwide. For Hillhead 2007 Extec Screens & Crushers will be displaying a selection of these crushing and screening products to exhibit how they can enhance your operations.
Along with the new S-6 Doublescreen, C-10+ Jaw crusher and Re-circulation system which were introduced for the first time at Bauma, Extec is set to unveil brand new crushing and screening solutions at Hillhead 2007.
Every machine in the Extec line up has been designed with the end user in mind, with crushers and screeners to meet the needs of all types of quarry and recycling organisations. Hillhead 2007 is seen as the perfect venue to showcase five of Extec's latest machines set to further the industry.
Extec is very excited to launch the new products at Hillhead 2007 and will be displaying them alongside the three new products released last month at Bauma...
S-6 Doublescreen
With a vast screening area and market leading stockpiling capabilities, the S-6 takes the highly advanced Doublescreen technology and pushes it past the levels of efficiency and productivity that have ever been seen in a machine of this size.
The S-6 now makes use of two 10' x 5' (3000 x 1500 mm) screen boxes (total 20' x 5' [6000 x 1500 mm] screening area), each with individual angling and control allowing for massive increases in its screening effectiveness. Longer conveyors allow for huge material stockpiles, while an increased frame size permits greater strength, durability and improved ground clearance, whilst still keeping the mobility that has helped make Extec machines such an essential part of modern screening and crushing.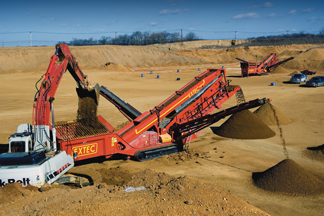 Re-circulation system and conveyor
Designed to cope with the needs of producing the highest quality crushed products through a single machine the re-circulation system will be available on both the new X44 SBS cone crusher and I-C13 impact crusher. The Extec re-circulation system makes use of the renowned Extec vibrating grid, offering an extremely effective separation process and ensuring that a refined end product can be achieved.
Also, through the integration of a feeding belt, the system is able to send oversize materials to be re-crushed without any external belts, meaning the machine can still offer unrestricted mobility, which is a massive benefit on larger sites and sites that require greater flexibility. This conveyor can also be deployed at 90° and used for the creation of a stockpile of different sized materials.
C-10+ Jaw crusher
The C-10+ will be released this spring, bringing with it key updates to the highly successful design of the C-10. The C-10+ now makes use of a Vogel greasing system to ensure that all wear parts are sealed from dirt and any lubricant that is washed away is automatically replaced. Frequent small amounts of grease lubricate the bearings and other important areas, ensuring that the machine is never under or over greased, meaning less wear, less downtime and less cost for repairs and spare parts.
A stronger web and flange construction gives the machine increased strength and flexibility and allows the C-10+ to work in the most hostile environments. The introduction of a stronger chassis means reductions in downtime and an increased ability to trust the machine in even the harshest conditions.
The CAT C6.6 engine now used in the C-10+ brings with it many advancements that allow for reductions in the emissions and fuel consumption of the machine. In today's increasingly 'green' markets the need for an efficient and environmentally friendly machine are growing and when these can also save money by reducing costs, the benefits are clear to see.
Together with these exciting developments Extec will also have current machines including the X44 SBS Cone crusher, E-7 Screen and C-12+ Jaw crusher on show. These machines make use of many powerful features that enable excellent productivity and usability over many applications.
CAT engines and a strong web and flange chassis in the X44 SBS and C-12+ offer excellent reliability and strength, while the range of fingers, bars, punch plates and meshes that can be used on the top and bottom deck of the E-7 ensure maximum screening effectiveness. Through these and many other advanced features each of the machines has shown great success and advanced many sites around the world.
Extec will be available throughout the Hillhead show at: Stand K5
Source: Extec Screens & Crushers Ltd.