Mack® Granite®, Granite MHD Models
Featured at the 2017 Work Truck Show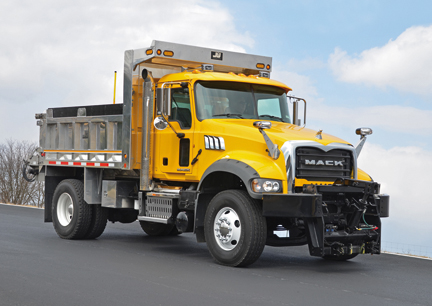 Mack Trucks featured the Mack® Granite® at the 2017 Work Truck Show March 14-17 at the Indiana Convention Center, Indianapolis.

Visitors to Mack Booth saw durable and rugged Mack Granite models, including the Mack Granite Medium Heavy Duty (MHD) model, which is weight optimized and can be configured as a Class 7 or Class 8 vehicle.

"The Mack Granite and Mack Granite MHD are versatile trucks which can handle the most severe jobs because of Mack's pioneering legacy of developing durable and reliable vehicles," said Tim Wrinkle, Mack construction product manager.

Mack also highlighted its extensive uptime solutions, including an update on its Mack Certified Uptime Centers and the fully integrated GuardDog® Connect telematics platform. Standard on all Mack models with Mack engines, GuardDog Connect provides proactive monitoring of a truck and its powertrain for potential issues that could lead to unplanned downtime.

Working with Mack's OneCall™ uptime agents and Mack ASIST, GuardDog Connect enables real-time diagnosis of issues, scheduling of repairs and confirmation that needed parts are in stock and ready to install, all while a truck is still on the road.
Source: Mack Trucks