Hyundai Adds Mobile App for Hi-Mate Remote Management System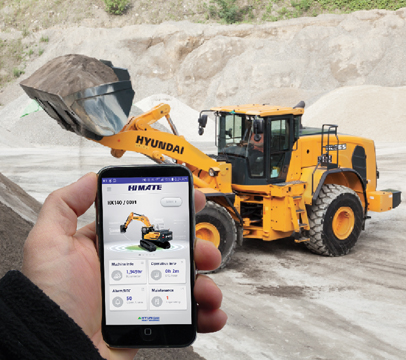 At CONEXPO-CON/AGG 2017, held last March in Las Vegas, Hyundai Construction Equipment Americas, Inc. (HCEA), announced a mobile application of its exclusive Hi-Mate remote management system that uses GPS technology to track Hyundai construction machines at any time and in any location. Hi-Mate monitors key machine components such as the engine, hydraulics and electrical system.

This application is available free to current Hi-Mate subscribers. Users with smartphones and other mobile devices using the Android operating system may download the new Hi-Mate mobile app from the Google Play store. An iOS version for iPhones is in development.

"The mobile app is a great addition to our Hi-Mate product offering," said Scott Rainwater, manager of Tech Support, Hyundai Construction Equipment Americas. "Like the full Hi-Mate application, the mobile version saves our customers time and money by promoting greater preventive maintenance to reduce equipment downtime."
The mobile Hi-Mate app lets users view and manage information much as they would using Hi-Mate on a desktop, laptop or tablet computer.

Among other capabilities, users may view operating information, select and activate alarms, and call up reports such as alarm incidents and maintenance status. For users who track multiple machines via Hi-Mate, the new Android app facilitates monitoring any specific machine or combination of machines.

Hi-Mate provides complete, real-time information on the location and operation of Hyundai wheel loaders and excavators. It also supports theft prevention through such capabilities as geo-fencing and alarm notifications.

Hyundai provides free use of Hi-Mate for 3 years with the purchase or lease of any new Hyundai HL900 series wheel loaders, HX series crawler excavators or HW series wheeled excavators.