Tsurumi Pump to Offer Briggs and Stratton's Vanguard® Engines as an Option on EPT and TE Series Pumps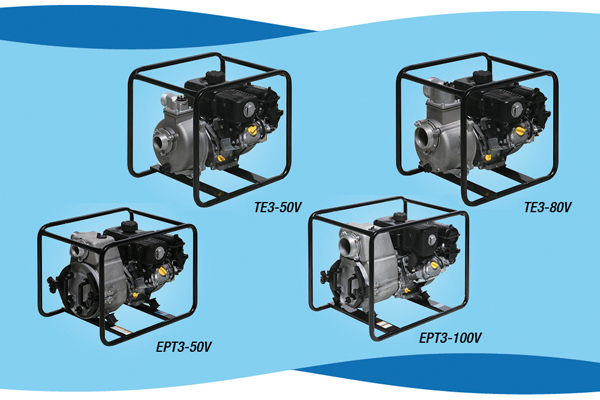 Tsurumi Pump has partnered with Briggs and Stratton to offer North American users its engine-driven trash and dewatering pumps another choice and continuous high level of after-sales support.
This enables popular models in Tsurumi's EPT and TE series to achieve compliance with the latest regulations of California's Air Resources Board (CARB) and allow them to be sold in the state.
The Vanguard Series engines will offer the same horsepower and RPM figures, and be an option on 2" and 3" centrifugal dewatering pumps and 2" and 4" trash pumps, under the TE3-50V and TE3-80V, and EPT3-50V and EPT3-100V model designations, respectively.
Standard features on Vanguard single-cylinder engines include an integrated cyclonic air cleaner that doubles air filter replacement intervals to 600 h, an acoustically-designed fuel tank and muffler optimized to reduce noise, and easy, one-pull starting in cold temperatures as low as -30°C.
No changes to the design and performance of the Tsurumi products were required, thanks to a close partnership between the 2 companies as they worked to optimize the integration of the Vanguard engines.
The decision to add a new engine option was initially inspired by supply chain problems in recent years. While these issues have almost been entirely resolved this product offering still brings many advantages to the company and customers alike.
The new Vanguard option will also provide Tsurumi customers with a superb level of reliability and widely available maintenance support.
Tsurumi's compact and lightweight engine-driven pumps are a long-time favorite with contractors due to their efficient performance. Users can rest assured that the Vanguard option will allow the same impressive capacities to remain.
Source: Tsurumi America, Inc.