Alfen and Nybro Energi Partner to Accelerate Renewable Energy Transition in the Nordic Countries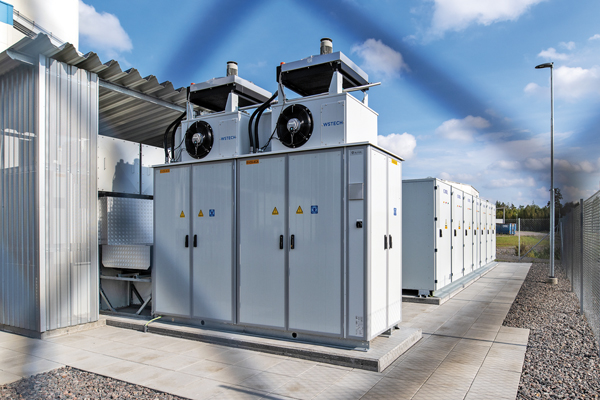 Alfen N.V., an energy solutions specialist at the heart of Europe's energy transition to limit climate change, has successfully installed a 5 MW/5 MWh TheBatteryElements™ energy storage system for municipal energy company, Nybro Energi. This project is part of Alfen's ongoing support for Sweden's energy supply needs as the country increases emphasis on renewables and electrification.
The system was commissioned last April for use on the Swedish ancillary services market and started operations in May. It features a proven industrial modular energy storage solution for stationary applications ranging from 1 to 100 MW+. TheBatteryElements modular outdoor building blocks can be added to each other to achieve high energy density according to the requirements.
Nybro Energi has a proud history of pioneering green energy solutions. Since the 1970s, it has used biofuels to produce both heat and electricity for Nybro, a town in southern Sweden, and started using another plant that generates power from waste in 2016. It has also set up a wind farm, and solar panels cover the roofs of the city's industrial buildings.
"We're proud to provide Nybro with Alfen's TheBatteryElements, which offer modular energy storage to help create a greener and balanced energy landscape for Sweden, one of the first countries in the world to adopt a net-zero emissions target, which it intends to achieve by 2045," commented Stephanie Schockaert, commercial director for Alfen's Energy Storage Solutions business.
This project ensures stable energy supply through ancillary services for Swedish transmission system operator, Svenska Kraftnät, which include primarily frequency containment reserves, real-time grid frequency balancing and peak shaving during cold winter days. Notably, surplus heat from the waste incineration plant complements the electricity stored by the system.
"Alfen was our top choice for the battery system procurement as we were looking for a flexible solution with an effective price and design that catered to Svenska's transmission system needs," added Niklas Lindvall, Business Area manager at Nybro Energi. "The system has been operational in the ancillary services market for a while now, and our satisfaction remains unwavering,"
Alfen has been developing energy storage systems since 2011 with installations in many European countries, and it has over 525 MWh of energy capacity contracted. Its solutions are underpinned by 2 key products tailored for different markets and applications but based on the same design principles to ensure optimal performance, flexibility, modularity and longevity. Alfen also offers end-to-end solution and network integration expertise, further extending the support for grid services and businesses seeking efficient energy management.
Source: Alfen N.V.