Ford's Transit Connect
---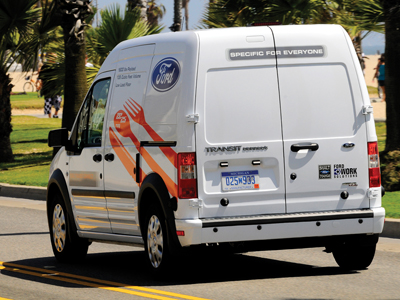 Rob Holden
There are a few "Firsts" in your life that remain fixed in your memory in a magical way. Perhaps your First Love, your First Job, and more often than not… your First Car! Few of us ever get to revisit those halcyon days; fewer still manage to polish up the guild of these memories. As I write this, I must admit that I am now one of those few, in part thanks to the "New" Ford Motor Company.
Fresh out of college and with a map for my future, I left the farm and family life of rural Ontario and struck out for civilization and the "Centre of the Universe". My aunt claims that, like a cat, I always land on my feet, and for a few quids a week, I got my first job at an engineering firm in south London. Not just a job, but also the wonder every day of new tasks and new destinations throughout London, The Home Counties and beyond! All that AND what I consider my first and most special vehicle, the Ford Escort Van.
A Y-Registration, dark blue, 1,3 l, 60 hp van. Utility, performance and fun make it the best vehicle, pound for pound I have ever had. No small praise from a farm kid who has spent a fair share of time at the wheel of pick-ups!
So what is so special or newsworthy about that I hear you ask?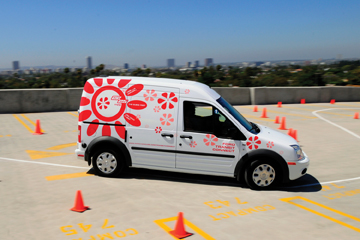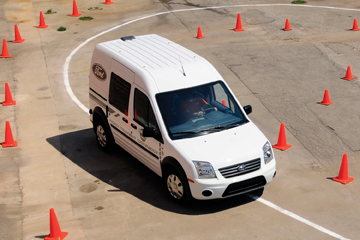 Guess What? Good things come to those that wait, someone at Ford in Michigan had an epiphany and now the modern incarnation of that workhorse of industry is available in North America. The "New-To-You", Ford Transit Connect, which I am referring to as the Focus van. Personally, I'd have to say that is probably the biggest mistake the marketing weenies messed up – the American name. The lesser mistake being a general lack of promotion, I happened upon my first one by chance at a snow equipment show in Quebec and I still have not seen them advertised.
For the benefit of the ill-informed, a "Transit" is the Ford trade name for the commercial van range in the outside world, comparable to the "Econoline" name over here. So for U.S. or Canadian prospective buyers not only is the vehicle concept new, so too is the name. In marketing terms that is a bit like coming off the line from a dead stop. In contrast, most of this new audience can conceive "a van" and the Ford Focus range has proven highly popular in both countries. To those Technobuffs still reading; this is further reinforced as it shares the basic 136 hp - 2,0 l Focus drive train. Something Ford needs to address promptly as it lacks the pep and power of my old van's 1,3!
The diesel would be my preference, but the fact that this vehicle is available at all is probably as much innovation as the U.S. automotive industry can handle at the moment. There is also an all-electric version that may be available sometime in 2010 that Ford is developing in cooperation with Azure Dynamics.
I have read several commentaries comparing the Connect to the Sprinter, and someday perhaps I will know why. Apart from a cursory visual similarity there is not anything else to compare. Neither is it a "minivan" as some have tried to label it, these folks should get out more. The best label I can think of would be Compact Commercial Vehicle, CCV for short. There are competitive American vehicles that could fall into this category such as Ford's own Ranger pick-up. When I first encountered my Escort van I had been conditioned to using full size pick-ups, the Ranger being relatively new at that time. Also at that time the "truck cap" was gaining popularity, the theory being you could get more utility from your pick-up.
Pick-ups large and small have spiralled in cost, primarily due to options and extras that, pragmatically, undermine the utilitarian concept of this type of vehicle. There are no more luxurious, comfortable or expensive vehicles than those from Europe. Unlike the Americans however, they save luxury for cars and utility for trucks and vans. What painter needs Italian leather trimmed seats and magnesium control knobs when it will either be stolen, broken into, burnt in a riot, or suffer a latex pastel splash?
Transit Connect is right in there on price. By comparison, a Ranger base model may be slightly cheaper, but finding one might be an issue. You also would not get a 3831 l, lockable, secure storage space for materials and tools. At present the only other option might be a stripped down "minivan" with marginally more cubic capacity, but the Connect has an airier passenger cabin and better utility.
Capped vs. Connect suffers another setback, as the added weight of the truck cap must be deducted from the payload capacity rating. Also, have you ever been on a job and had to reach over the side, into the back, or crawl up inside the cap? The Transit Connect has 6 doors; everything is accessible without banging your head or twisting your back. Pallets and other standard forklift loads can be easily picked or placed between the wheel wells through the fold-back rear doors making it an excellent addition to postal, courier and delivery fleets.
If you like the small footprint and large cargo volume, the Transit Connect may work for you.
Ford deserves applause and ovation for challenging customers and competitors with an affordable, reliable, utilitarian innovation like the Transit Connect.
Perhaps for an encore we may see the other "bigger" Transit van in our future?
| | |
| --- | --- |
| Technical stuff | Ford Transit Connect 2010 |
| Type: | cargo van |
| Engine: | L4 – 2,0 l – 16 soupapes |
| Power: | 136 hp @ 6300 tr/min - 128 lb-pi @ 4750 tr/min |
| Transmission: | 4 speed automatic, front-wheel drive |
| Steering: | rack & pinion, power steering |
| Suspension: | front independent / rear independent |
| Brakes: | front disc / rear drum - ABS |
| | | | |
| --- | --- | --- | --- |
| | | | |
| | Ford Transit Connect | Ford Ranger | Dodge Caravan C/V |
| Wheelbase: | 291 cm | 319 cm | 303 cm |
| Length: | 459 cm | 512 cm | 514 cm |
| Width: | 180 cm | 176 cm | 200 cm |
| Height: | 201 cm | 165 cm | 175 cm |
| Weight: | 1524 kg | 1484 kg | 1860 kg |
| Horsepower: | 136 hp | 207 hp | 175 hp |
| Tires: | 205/65R15 | 225/65R16 | 225/70R15 |
| Turning circle: | 11,9 m | 13,0 m | 11,6 m |
| Interior cargo volume: | 3831 l | 513 l | 4072 l |
| Payload: | 725 kg | 726 kg | 716 kg |