First Test for the G4 Rotor Blade Adapter From SCHEUERLE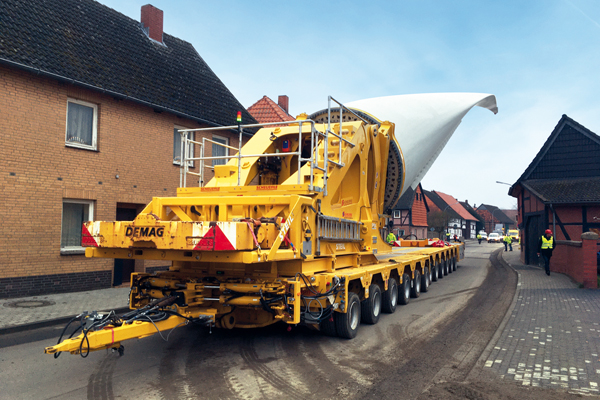 The transport of rotor blades to the Flöthe wind farm in Flöthe, Lower Saxony, Germany, posed very special challenges. To manage this, Steil Kranarbeiten relied on the rotor blade adapter from SCHEUERLE. The new, 4th generation provides further optimized technical qualities that had to prove themselves in this transport - and mastered the challenges with flying colors.
Narrow streets in towns and villages, densely planted avenues, low-hanging high voltage lines and a number of roads with severe bends – the 6 km route is peppered with obstacles. Steil had to use this route to transport several rotor blades for a well-known manufa
cturer of wind turbines which included versions with lengths reaching almost 79 m. In order to complete the assignment, Steil Kranarbeiten relied on equipment from SCHEUERLE, a subsidiary of the Transporter Industry International Group (TII Group).
An InterCombi self-propelled vehicle combination consisting of 2 sets of 6 axle lines as well as the especially powerful G4 rotor blade adapter was used. The G4 rotor blade adapter provides high load moment throughout the entire setup angle.
"We had to erect the rotor blade, which weighs more than 20 t, by up to 45° in order to shorten the transport," explained Sebastian Sehl, company secretary at Steil Kranarbeiten and responsible for project management.
According to him, this angle required a load moment of 650 t m.
"A high set-up angle is required in avenues and wooded areas. As a result, fewer branch cuts and tree fellings are necessary," he reported.
Furthermore, the small width – namely 3.0 and 3.49 m – is an advantage so that access roads do not have to be widened more than is strictly necessary. This would also result in additional tree felling and time-consuming work.
The G4 rotor blade adapter offers generous reserves – the maximum load moment of 900 t m can be used over the complete set-up angle of 60° so that even heavier or longer rotor blades can be transported efficiently, something to keep in mind knowing that rotor blades could soon measure more than 80 and up to 100 m in length.
Source: Transporter Industry International GmbH