Teledyne FLIR Expands Acoustic Imaging Offerings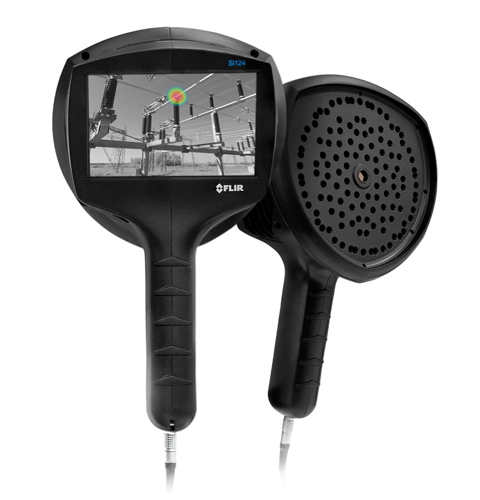 Teledyne FLIR recently announced the expansion of its acoustic imaging category with 2 additional models of the FLIR Si124 Industrial Acoustic Imaging Camera: the Si124-LD, specific for compressed air leak detection, and the Si124-PD, for partial discharge detection within high voltage electrical systems. This expansion provides additional, tailored solutions for different end-users needs, from utility infrastructure to plant environments, at a fraction of the cost.
The FLIR Si124-PD and Si124-LD devices also include easy-to-use onboard analytics with access to an online portal through the FLIR Acoustic Camera Viewer cloud service. This software empowers users to perform both quick diagnostics tasks and conduct deeper analysis. With this data, Si124-PD users can determine the severity of partial discharge issues in high voltage equipment, improving electrical grid reliability. Likewise, the Si124-LD model helps users determine the severity of compressed air leaks, potentially saving tens of thousands of dollars in energy costs.
"The FLIR Si124 acoustic imaging family of cameras provides for more precise issue detection by offering an unrivaled number of integrated microphones with improved microphone signal-to-noise ratio as well as a top detection frequency of 35 kHz to help users further pinpoint problem areas," said Rob Milner, Global Business Development manager – Condition Monitoring, Teledyne FLIR. "The Si124-PD and LD editions features the same robust artificial intelligence software capabilities of the Si124, but are customized to provide a more economical option for particular uses, such as locating corona at a utility substation or compressed air leaks in a factory setting. Taken together, the family of Si124 devices can help reduce inspection times up to 10x versus traditional methods."
Source: Teledyne FLIR LLC