Atlas Copco's TEX 10 Pick Hammer Ideal in Confined Spaces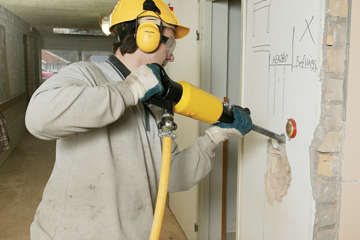 The TEX 10 pneumatic pick hammer from Atlas Copco Construction Tools features a long piston stroke and relatively low impact frequency, making it an effective tool for light demolition and controlled chiseling of concrete and hard brick, especially close to walls and in confined spaces.
The compact TEX 10 weighs 10,7 kg and has a length of 50 cm. The unit accepts a 2,2 cm x 8,25 cm standard hex-shaped tool shank and features a kick-latch retainer that facilitates quick and easy tool changing on the job.
The TEX 10 requires 1 m3/min of air and delivers a modest maximum impact frequency of 1350 blows/min to allow for more efficient and controlled breaking. The pick hammer's high power-to-weight ratio and long piston stroke combine to produce high impact energy, even in tight spaces.
Maneuverability and ease of operation of the TEX 10 are further enhanced by a slim profile and lightweight design. Other standard ergonomic features include a D-handle with outside trigger and an air cushioning system that substantially reduces machine vibrations when the hammer is running off load. Additionally, the working parts of the TEX 10 are housed within a slim silencer that reduces sound levels to 103 dB, well below European Noise Emission Directive (NED) limits.
Offering a wide range of steel tool accessories, the TEX 10 can be used for a variety of applications including breaking, chiseling, cutting, digging, driving and tamping.
Source: Atlas Copco Construction Tools