SENNEBOGEN Expands Crane Range With the Introduction of the 683 E 80 t Telescopic Crawler Crane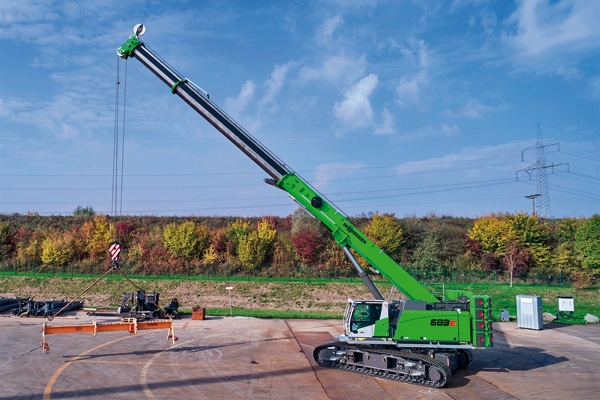 SENNEBOGEN has added another model to its range of telescopic crawler cranes: the 80-t 683 E. With its load capacity of 80 metric tons and a main boom length of 42 m, the 9th model in the series fits perfectly into the gap between the existing 673 E and the 6103 E and belongs to the manufacturer's medium-size class. In practical use, it boasts impressive flexibility and a robust design that qualifies it for a wide range of applications and uses.
Telescopic crawler cranes have been a specialty of the Bavarian machine builder SENNEBOGEN for more than 30 years, and it has successfully established this flexible crane concept on international markets. As a further fifth-generation model, SENNEBOGEN is now introducing an 80-t mid-size machine that covers a wide range of applications with its heavy-duty boom and its powerful travel and winch motors. It is well-suited for building and below ground construction, bridge construction, pile driving during sheet pile installation, and as an agile auxiliary service crane. With its particularly robust design, it demonstrates its strength during heavy-duty use on rough construction sites, where it easily handles pick-and-carry tasks as well as lifting operations on a 4° incline.
The 80 t telecrane is powered by a 186 kW Cummins engine with state-of-the-art Stage V exhaust gas treatment. The main and auxiliary winches are driven by a high-pressure piston engine, which provides a considerable tractive force of 72 kN each and cable speeds of up to 120 m/min. The individually configurable equipment can be supplemented by a wide range of attachments, options, and additional features such as a programmable working range limiter and safety and low-temperature packages, thus appealing to users in specialized civil engineering and hydraulic engineering sectors, among others.
The 4-section Full Power-Boom, which can telescope to a length of 42 m in the standard configuration, offers a decisive time advantage, especially in complex operations with changing boom lengths. Thanks to multi-cylinder technology, the maintenance-free boom control system provides variable telescoping and is always force-locking. This means that any desired boom length can be reached quickly and easily, and the best payloads are always achieved automatically. As an option, the reach can be further extended to up to 57 m with a double folding jib that can be angled, making it particularly attractive for structural engineering. Operation is simple and intuitive via joystick movement.
The telescopic crawler undercarriage of the 683 E has a maximum track width of 4.2 m. Depending on requirements, this can be reduced symmetrically or asymmetrically to as little as 2.68 m, with the load charts being automatically adapted to the respective track width. Time-consuming positioning of the machine can be eliminated thanks to the robust design of the undercarriage, which is particularly beneficial when working on inclines and for pick-and-carry tasks. The 80-tonner not only boasts impressive load values at inclinations of up to 4° but can even travel with 100% of the specified load on the hook. The standard 800 mm triple grouser shoes installed provide a high degree of stability while reducing floor pressure to a minimum.
The 80 t crane is capable of unloading itself from a truck and with the aid of the radio remote control it is completely self-assembling. With crawler tracks attached, it has a transport width of only 3.5 m. After simple disassembly of the crawler, not only is the transport weight reduced by almost 20 t, but the transport width also contracts to 3.0 m.
Machine operators appreciate the ergonomic advantages of the particularly spacious Maxcab. For a comfortable view of even distant loads, the cab has a possible standard tilt of 20°. Optionally, the crane can also be equipped with a hydraulically elevating cab that can be tilted 30° at an eye level of 5.55 m. Large-area window elements provide an optimal view of the entire safety and work area. In addition, the machine can also be operated from outside the cabin via a radio remote control. Cameras and a large monitor extend the operator's field of vision to the rear and right side, and can also be used to monitor the winches. The electric dual-axis control system features joystick control buttons for optional attachments and the graphically displayed load moment limiter. The system provides an audio-visual warning and locks the control lever when the load limits are reached or exceeded. The intuitive Sencon control system provides important diagnostics as well as valuable data on payloads, boom angle, boom length, and radius, thus supporting the operator in his work with the machine - for maximum availability.
The SENNEBOGEN 683 E also proves to be highly advantageous in terms of service friendliness. A central lubrication point for the boom base axle, luffing cylinder, and slewing ring greatly reduces operator maintenance. Optimum access to the service points and clear identification of the components also save valuable time in daily operation.
Source: SENNEBOGEN