New Pettibone Extendo 1544X Telehandler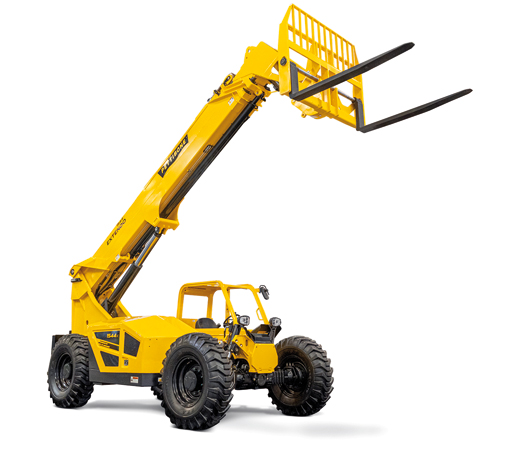 Pettibone brings its X-Series telehandler lineup to the 6.8 t lifting class for the first time with the introduction of the Extendo 1544X telehandler. The added load capacity is ideal for material handling tasks in highway construction, pipe yard applications, and for extended load requirements on traditional building sites.
The 1544X is powered by a 117-hp Cummins QSF 3.8 turbo diesel engine. Mounted onto a side pod, the engine offers easy accessibility to components and daily service checks, while still allowing for exceptional curbside visibility and a ground clearance of 482 mm. The telehandler comes standard with foam-filled tires.
Built on Pettibone's next-gen X-Series platform and featuring an advanced boom design, the 1544X offers a maximum lift height of 13.4 m, a maximum forward reach of 8.8 m, and a maximum load capacity of 6,800 kg. Formed boom plates provide the boom structure with greater strength while reducing weight. The design also minimizes boom deflection for better control and accuracy when placing loads.
Significant boom overlap provides smoother operation and reduces the contact forces on wear pads, thereby extending service life. An external, bottom-mounted extend cylinder further reduces the load on wear pads by up to 50%. The cylinder location provides improved service access to internal boom components. Fastener-less wear pads also simplify service, and heavy-duty extension chains help to ensure stable boom functions.
The drivetrain and axles are optimized to provide greater tractive effort with minimal tradeoff on top-end speed. A pintle-hitch mount adds versatility for towing. Built for use on rough terrain, the machine offers full-time 4-wheel-drive with a limited-slip front-axle differential. Tight-steer-angle capability provides an efficient turning radius. The Dana VDT12000 Powershift transmission offers 3 speeds, forward and reverse.
Source: Pettibone/Traverse Lift, LLC