Nominations
---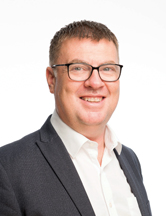 Perkins Engines Company Limited annonçait récemment la nomination d'Andrew (Andy) Curtis au poste de directeur des solutions clients. Ce poste nouvellement créé lui permettra de continuer à se concentrer sur l'établissement de relations avec les principaux fabricants d'équipements d'origine (OEM) dans le monde entier et de les soutenir dans la transition énergétique vers un avenir à faible émission de carbone.
Tout au long de sa carrière, Andy Curtis a mis l'accent sur la collaboration avec les clients. Plus récemment, il a occupé le poste de directeur des ventes OEM, où il a dirigé l'équipe OEM mondiale lors de l'introduction réussie de la phase V de l'UE, ainsi que les stratégies agricoles et de manutention de Perkins.
«Je suis ravi de relever le défi de ce nouveau rôle et de faire grandir une équipe de professionnels expérimentés qui se concentrent sur la collaboration avec les clients pour fournir les bonnes solutions pour l'avenir», déclarait monsieur Curtis. «Perkins est stratégiquement positionné pour aider les équipementiers dans la transition énergétique. Je suis impatient de passer du temps avec nos clients pour les aider à résoudre leurs défis.»
Andy Curtis sera également disponible pour rencontrer les clients intéressés lors de nombreux salons professionnels clés cette année, notamment CONEXPO-CON/AGG en mars, où Perkins exposera ses configurations de batteries lithium-ion 48 V et 300 V. De nombreux clients seront également intéressés par la façon dont les ressources intégrées de Perkins en matière de groupes motopropulseurs peuvent les aider à lancer des programmes de développement et à accélérer la mise sur le marché des produits en utilisant des compétences et des connaissances supplémentaires.
Source: Perkins Engines
---
GLOBOCAM, le plus grand réseau de concessionnaires de camions lourds au Québec, annonçait récemment la nomination de Maxime Boyer à titre de président. Il assure ainsi la relève de l'entreprise familiale québécoise fondée il y a près de 30 ans avec une vision axée sur les valeurs familiales et les énergies alternatives pour assurer la croissance.
«Je suis honoré de cette reconnaissance reçue des membres du conseil d'administration, du support de mes collègues partout au Québec et de l'appui des membres de la direction. Les bases solides sur lesquelles mon père et son équipe ont bâti GLOBOCAM au cours des dernières années sont admirables. C'est un incroyable privilège de représenter l'entreprise au cours des prochaines années et d'accepter les responsabilités que me transfère mon père», mentionnait monsieur Boyer.
Depuis son arrivée en 2017, Maxime Boyer a occupé divers postes aux ventes ainsi qu'à l'administration pour finalement prendre la responsabilité de l'ensemble des opérations des concessionnaires de la région de Montréal à titre de vice-président-directeur général en 2021. Avec plus de 20 ans d'expérience sur le marché et son parcours comme entrepreneur athlète de l'École d'entrepreneurship de Beauce, il a su mettre son expertise à profit en aidant l'entreprise à prendre une position de leader dans le marché des camions lourds au Québec.
«Depuis que Maxime a joint Globocam il y a 6 ans, il a amélioré les processus aux départements des ventes, de la finance et des TI et a démontré son leadership. Avec sa formation de comptable (CPA) et ses expériences professionnelles antérieures, Maxime a tous les atouts pour assurer la croissance de GLOBOCAM et l'amener à un niveau supérieur», soulignait Serge Boyer, président du conseil d'administration chez GLOBOCAM.
Rappelons que GLOBOCAM a fait l'acquisition de concessionnaires à Québec et à Lévis en 2016, en Beauce en 2021, ainsi qu'en Estrie en 2022. L'entreprise compte maintenant plus de 500 employés à travers le Québec.
Avec 8 concessions, GLOBOCAM avance vers son objectif de livrer 2500 camions par année d'ici à 2025.
Source: GLOBOCAM
---
Bernardo Gogna a été nommé chef des infrastructures de la l'Autorité aéroportuaire du Grand Toronto (GTAA). Il était vice-président principal d'AECOM Arabia à Riyad, en Arabie saoudite.
Auparavant, monsieur Gogna a occupé des postes supérieurs de développement aéroportuaire pendant près de 15 ans, dont ceux de chef du développement des aéroports mondiaux de Los Angeles, en Californie, et de directeur du programme des immobilisations du Royal Schiphol Airport Group, aux Pays-Bas. Bernardo Gogna a occupé des postes de direction dans plusieurs mégaprojets importants de développement aéroportuaire et programmes de transformation.
Bernardo Gogna occupera le poste de chef des infrastructures après le départ à la retraite de Pat Neville, ancien vice-président, Planification d'aéroport et services techniques.
L'Autorité aéroportuaire du Grand Toronto exploite l'aéroport international Lester B. Pearson de Toronto, le plus grand aéroport du Canada et un lien vital tant pour les gens que pour les entreprises et les marchandises.
Appointments
---

Perkins Engines Company Limited recently announced that James Reed has been promoted to the position of global OEM sales director. Mr. Reed will be responsible for leading the global OEM Sales team, which he joined in 2019 originally as OEM sales manager.
Throughout his career, James Reed has held various roles in the business where he has shown strong leadership while ensuring that customers' product and services requirements are met. Mr. Reedalso represents the business in several industry-leading organisations including SAE International.
"I'm delighted to be asked to lead Perkins' OEM sales group," said James Reed. "Having worked with many of our current OEMs in previous roles, my focus will continue to be on ensuring we collaborate closely with our customers around the globe."
"Striving to always meet our customers' needs is a priority for me, my team and the company, so I will be spending time with and listening to our key global OEM customers to make sure we are providing them with the products, services and solutions they need to be successful," he continued.
Source: Perkins Engines
---
NEU: An ACI Center of Excellence for Carbon Neutral Concrete, recently announced the appointment of Dean A. Frank, P.E., to serve as executive director of NEU.
Mr. Frank previously worked as director of validation for NEU and as program developer for the American Concrete Institute (ACI). He brings extensive experience in sustainability, International Standards Organization (ISO) standards, and certification development of personnel, products and manufacturing plants. Prior to joining ACI, Dean A. Frank gained a comprehensive working knowledge of resilience and sustainability as an employee at Wiss, Janney, Elstner Associates Inc., the National Precast Concrete Association, Precast/Prestressed Concrete Institute, and through his consulting company. He also has experience in working as an assessor with ISO standards governing the operations of conformity assessment bodies and is a licensed P.E. in Indiana and Colorado.
"NEU has been growing quickly and I'm excited about our opportunities to make a difference in reducing the carbon emissions of concrete," said Mr. Frank. "I have enjoyed the work I've been doing with NEU so far in setting up the validation program, which we believe will have a big impact on the industry."
Source: NEU: An ACI Center of Excellence for Carbon Neutral Concrete
---
The American Society of Concrete Contractors (ASCC), based in St. Louis, Missouri, recently announced the hiring of Gordon Raymond Hefner as executive director. Mr. Hefner replaces Bev Garnant who led the association for over 20 years. He possesses over 27 years of association management experience in the construction trades. He will be responsible for the administration of all ASCC programs and will oversee its staff.
Gordon Raymond Hefner possesses a B.A. from the University of Missouri-St. Louis, a M.A. from Webster University where he was a "distinguished" graduate. He holds a Certified Association Executive (CAE) credential from the American Society of Association Executives.
ASCC is a nonprofit organization dedicated to enhancing the capabilities of those who build with concrete, and to providing them a unified voice in the construction industry. Members include concrete contracting firms, manufacturers, suppliers and others interested in the concrete industry such as architects, specifiers and distributors. There are approximately 720 member companies in the U.S., Canada, and other foreign countries.
---
Frontier Lithium Inc. recently announced the appointment of Graeme Goodall, to the position of vice president of operations. Mr. Goodall is a Professional Engineer with a designation in Metallurgical Engineering. He holds a Ph.D. in Materials Engineering from McGill University. Mr. Goodall joins Frontier with over twenty years of experience focused on metallurgy, pyrometallurgy and extractive operations for multi-national mining and metals
producers.
The addition of Mr. Goodall reflects the company's strategy to complement its existing expertise in lithium refining with strong operational and metallurgy expertise. The appointment comes at a time when Frontier is focussed on advancing its fully integrated PAK Lithium Project which will see a mine, mill and lithium salts plant operational in the coming years.
Mr. Goodall has held several positions with international mining and metals companies, including Glencore, Vale , Rio Tinto and Noranda. His most recent position was as Manager, Pyrometallurgy and Furnace Integrity at Glencore XPS in Sudbury and prior to that as Interim Technical Director and Superintendent, Furnace Integrity at Koniambo SAS in New Caledonia.
In addition to his doctorate degree, Graeme. Goodall also holds a Master of Materials Engineering and a Bachelor of Metallurgical Engineering from McGill University in Montreal, Quebec.
Source: Frontier Lithium