No Time For a Coat of Paint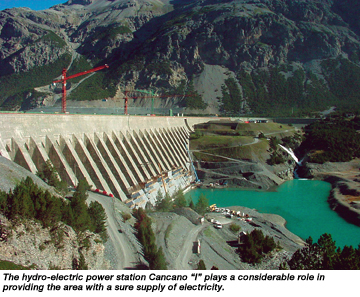 Something which the Italian Alpine region around the small town of Bormio does not lack are rain and snow, which can sometimes be quite heavy. Precipitation in the dams San Giacomo and Cancano "I" and the melt from the neighbouring glacier are collected by the power company Azienda Energetica Municipale Di Milana and used to generate electricity in the power stations at Fraele, Premadio and Braulio. Other hydro-power stations also provide the region and its industries with electricity.
In the meantime, the Cancano reservoir "I" built in 1922 is in urgent need of renovation. The reservoir lies at an altitude of about 2 000 m and contains approximately 650 000 m3 of water. Work on the 91 m high and 965 m long dam comprises pumping and distributing around 30 000 m3 of concrete which the commissioners, Azienda Energetica Municipale Di Milana, have contracted to the pump service provider COSSI S.p.A. in the north Italian town of Sondrio.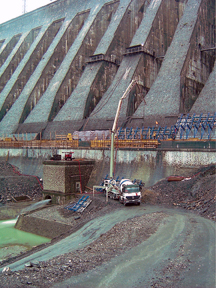 The very tight schedule meant that the Italian subsidiary of Putzmeister was under time pressure to supply a new M 36-Z truck-mounted concrete pump. The machine which had been ordered at short notice by pump service operators COSSI S.p.A. had to be in operation on Tuesday of the following week. That meant Putzmeister Italia did not even have time to give the new truck-mounted concrete pump a coat of paint, let alone the final finishing. Instead, the M 36-Z received just a priming coat ­ something on which the customer insisted!
Renovation work commenced in April 2004 (concrete pump was not used until July) and is planned for completion at the end of 2006.
The concrete being poured is a C30/37 with a 16­22 cm slump and, as a rule, a water/cement ratio of about 0.45. Aggregates consist of broken materials and are up to 50 mm in size. In spite of the addition of a plasticizer and an apparently soft-sticky consistency (F4), this concrete is not easily pumped. For example, the manometer shows an increase in hydraulic pressure of 260­280 bar each time the S-tube is connected. The reason is special additives which are put into the concrete batches in the mix unit.
By the way: The missing coat of paint will be applied to the M 36 "Z" in the winter months, when construction ceases anyway due to the bad weather. So, the coming spring will see renewed and "colourful" activities on the Cancano site!