Nominations
---

Enzo Masciotra, président de Montréal Tracteur, est heureux d'annoncer la nomination de Jean Legault au poste de commis de pièces et spécialiste – pièces usagées. Dans le cadre de ses nouvelles fonctions, monsieur Legault travaillera au siège social à Baie d'Urfé, au Québec, depuis le 12 octobre 2020.
Jean Legault possède 22 années d'expérience dans le domaine des équipements lourds. Il a été, pendant plusieurs années, directeur d'atelier pour Les Équipements Lourds Papineau. Fort de son expérience, son expertise des pièces et composants permettront, sans nul doute, d'offrir un service de qualité et des conseils pertinents aux clients.
Montréal Tracteur est une entreprise de vente et location d'équipements lourds, de pièces et de composants. Présent à travers le Canada, le groupe possède une filiale en Ontario; son siège social est situé à Baie d'Urfé (Montréal) au Québec.
Source: Montréal Tracteur inc.
---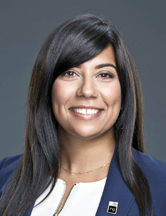 L'ingénieure Kathy Baig a été réélue au poste de présidente par le 100e Conseil d'administration de l'Ordre des ingénieurs du Québec, qui s'est réuni le 24 septembre dernier. Il s'agit du 3e et dernier mandat de 2 ans pour Madame Baig, qui est administratrice de l'Ordre depuis 2013 et présidente depuis 2016. Kathy Baig, ing est la 4e femme à occuper ce poste depuis la création de l'Ordre, en 1920.
«C'est un honneur et un privilège de pouvoir poursuivre le travail accompli depuis 4 ans avec les membres et les parties prenantes de la profession. Grâce à ce que nous avons bâti ensemble, l'Ordre et les ingénieurs du Québec jouissent d'un niveau inégalé de confiance de la part du public. Mais nous pouvons aller encore plus loin, et c'est dans cet esprit que j'entame ce nouveau mandat», déclarait la présidente de l'Ordre.
Source: l'Ordre des ingénieurs du Québec
---
L'Association des firmes de génie-conseil | Canada (AFGC) est heureuse d'annoncer la nomination d'Anthony Karakatsanis, P.Eng., président et chef de la direction de Morrison Hershfield Group, au poste de président du conseil d'administration de l'AFGC pour l'exercice 2020-2021. Cette annonce a été faite lors de l'assemblée générale annuelle des membres, tenue virtuellement le 27 octobre 2020.
Monsieur Karakatsanis s'est joint au conseil d'administration de l'AFGC pour la première fois en 2016 et a siégé à divers comités de l'Association. Pendant son mandat de président du conseil d'administration de l'AFGC, il prévoit poursuivre l'excellent travail réalisé par son prédécesseur, Lawrence Lukey, P.Eng., et continuer à faire valoir le rôle de premier plan que jouent les ingénieurs-conseils dans la société canadienne. Il est résolu à faire en sorte que l'AFGC reste agile et solide sur le plan financier, pour qu'elle continue à s'engager auprès des membres et à les soutenir pendant la crise de la COVID-19. Il veut aussi veiller à ce que le secteur du génie-conseil ait une voix et un rôle à jouer dans la reprise qui suivra.
Anthony Karakatsanis, qui est diplômé de l'Université Western, fait partie de la famille Morrison Hershfield depuis près de 30 ans; il s'est joint à la firme en 1989, à titre de gestionnaire de projets. Depuis, il a occupé de nombreux postes de direction dans les groupes de pratique verticaux et horizontaux avant d'être nommé président et chef de la direction. Outre ses apports à l'AFGC, il a apporté sa contribution à de nombreux comités et organismes de l'industrie, et fait valoir la manière dont les firmes de génie-conseil peuvent offrir des solutions novatrices et utiles qui facilitent la vie des clients et des collectivités.
Source: Association des firmes de génie-conseil | Canada
Appointments
---
Takeuchi-US recently announced the appointment of Patrick Kirychuk as region business manager for Canada and Alaska, effective immediately. Mr. Kirychuk's main responsibilities include supporting Tkeuchi's dealers and customers across Canada and Alaska.
Patrick Kirychuk has almost 2 decades of experience in heavy equipment sales and management in various roles. Most recently he was employed with SMS Equipment in Alberta as a sales representative and then promoted to product manager. In his time as a sales representative for SMS Equipment he successfully grew the market in the Calgary Region, developing new customers for a very specific product line and worked extensively with Takeuchi products.
"We are very excited to welcome Patrick to our team," said Henry Lawson, director of sales for North America. "He has a great deal of experience, not only working in the industry but is also well acquainted and knowledgeable with the Takeuchi product line. With his positive attitude and experience he is going to be an excellent addition to our team."
Source: Takeuchi-US
---
The Association of Consulting Engineering Companies - Canada (ACEC) is pleased to announce that Anthony Karakatsanis, P.Eng., president and CEO of the Morrison Hershfield Group has been named to the position of Chair of the ACEC Board of Directors for the 2020-2021 term. The announcement was made at the ACEC annual general meeting of members held virtually on October 27, 2020.
Mr. Karakatsanis first joined the ACEC-Canada Board in 2016 and served on various committees. During his term as ACEC Chair, he looks to build upon the excellent work of his predecessor Lawrence Lukey, P.Eng., and will continue to promote the important role of consulting engineers in Canadian society. He is committed to ensuring that ACEC remains agile and financially strong so that it can continue to engage with and support its members through the COVID-19 crisis and ensure that the consulting engineering sector has a voice and a role in the subsequent recovery.
Mr. Karakatsanis, a graduate of Western University, has been part of the Morrison Hershfield family for almost 3 decades, joining in 1989 as a project manager. Since, he has held numerous leadership positions in both the vertical and horizontal practice groups before being appointed president and CEO. He has contributed to numerous industry organizations and committees in addition to ACEC-Canada, championing how consulting engineering firms can offer innovative and valued solutions that make a difference to clients and their communities.
ACEC represents companies in Canada that provide professional engineering services to both public and private sector clients. These services include the planning, design and execution of all types of engineering projects, as well as providing independent advice and expertise in a wide range of engineering and engineering-related fields.
---
Mack Trucks recently announced that effective October 1, 2020, Gunnar Brunius has been appointed vice president and general manager of Mack's Lehigh Valley Operations. The facility, which is located in Lower Macungie Township, Pennsylvania, produces all heavy-duty Mack® truck models built for North American and export markets.
Mr. Brunius previously served as vice president of the Volvo Trucks vehicle assembly plant in Tuve, Sweden, a position he has held since 2015. He has nearly 40 years of manufacturing, engineering and business experience at the Volvo Group, Saab Automotive AB, and General Motors.
Source: Mack Trucks