Vanair Unveils New Start-All Lithium-Ion Jump Starters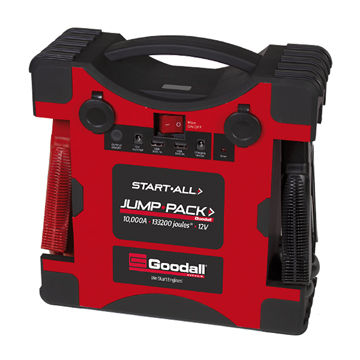 Vanair® Manufacturing, through its acquisition of Goodall® Mfg., continues its commitment to engineering innovative mobile power solutions with the debut of its new Start-All® Jump Pack™ series at ICUEE, last October.
The Start-All series of portable jump starters are built to safely deliver fast starts to a wide variety of vehicles. A high-output premium lithium-ion battery provides maximum performance and longevity, while proprietary Protect-All™ technology enables the Start-All Jump Pack units to safely transfer instantaneous energy to the battery.
"The Start-All series of jump packs can instantly jump start anything from small engines to large heavy-duty 16 l commercial grade diesel engines," says Dean Strathman, vice president of Sales at Vanair. "Lithium-ion technology makes these units lighter in weight and longer-lasting compared to lead or AGM batteries. The result is a compact, lightweight and reliable source of power to get you back up and running and on the road quickly."
In addition to providing industry-leading jump-starting power, each model in the Start-All Jump Pack series also doubles as a portable power bank. Equipped with DC auxiliary, USB and 12-volt output ports, the Start-All Jump Pack units can recharge personal electronics such as cell phones, laptops and speakers, as well as provide power for tire pumps, lights, and more. A 500 lumen LED flashlight with SOS strobe functions comes standard with each model as well.
Source: Vanair® Manufacturing