Hyundai's Electric-Powered Compact Excavator at ICUEE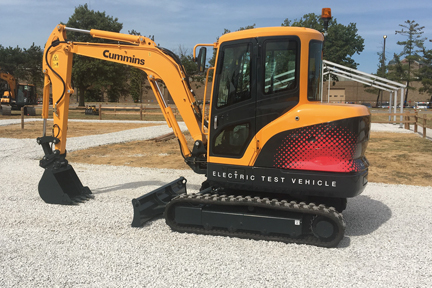 Hyundai Construction Equipment Americas unveiled the prototype of a fully electric-powered compact excavator at the International Construction and Utility Equipment Exposition (ICUEE) held October 1-3 in Louisville, Kentucky.
Hyundai and Cummins Inc. collaborated in developing the electric-powered Hyundai R35E compact excavator. It was one of 7 Hyundai compact excavators on display at ICUEE.
"Hyundai is pleased to collaborate with a global industry leader like Cummins to address what both companies expect to be a burgeoning demand for electric-powered compact excavators," said Stan Park, vice president of distribution and marketing, Hyundai Construction Equipment Americas. "Cummins sought out Hyundai for this project after it found growing interest – especially in the rental market – in fully electric-powered machines.
"Through our collaboration, we have produced an excavator in the highly popular 3.5-ton (3.2 t) size class, that we expect to be well received not only in the rental market, but in municipalities focused on 'green initiatives', in urban construction where machine noise can be an issue, and in applications that are exposed to fire hazards," added Mr. Park. "Hyundai is committed to this type of technology. The R35E will not be our only fully electric-powered excavator."
Powered by Cummins BM4.4E flexible battery modules (4.4 kWh each), the Hyundai R35E excavator prototype is designed to support a full work shift and charge in under 3 hours. The machine eliminates all gaseous emissions and substantially reduces noise, making it ideal for use in urban and suburban construction. 
The excavator contains 8 modules connected in a series configuration to provide a total energy of 35 kWh. Mounted near the base of the excavator, the Cummins-designed and built battery modules use lithium-ion technology to achieve a higher energy density and proprietary control technology to maintain the battery state-of-charge for a longer zero-emission range. The modular design also allows for scalability to other applications and duty cycles.