Sustainable Aviation Fuels at the NBAA Convention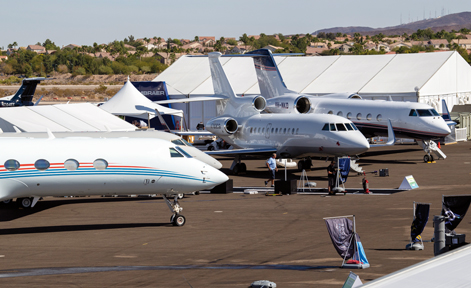 Civic and business leaders welcomed the return of the NBAA's Business Aviation Convention & Exhibition (NBAA-BACE) to Las Vegas last October, and welcomed the first-time availability of sustainable aviation fuels (SAF) at Henderson Executive Airport (HND) for the event's aircraft display. 
As part of the show's week-long focus on sustainability, all turbine airplanes refueling at the airport took on some amount of SAF before departure. The fuel is a non-fossil power source that can reduce aviation's carbon lifecycle emissions by up to 80%.
An estimated 150,000 gallons (560,000 l)of SAF were expected to be pumped at HND – thanks to a collaborative effort between the airport, local fuel suppliers and show organizers.
The business aviation industry has long been committed to sustainability, including through the development and adoption of SAF, and this year's NBAA-BACE featured sustainability programming and events throughout the show.
"Sustainability, including the availability and use of SAF, is key to the future of business aviation," said NBAA president and CEO Ed Bolen. "We applaud airport and county leaders for partnering with us to make SAF available at Henderson Executive Airport this week. This initiative demonstrates that as it becomes more available, and people are increasingly aware of it, demand for use of the fuels will continually increase as well."
Bringing about 25,000 attendees to the city, NBAA-BACE generated a total economic impact of approximately US$40.5 million ($53 million) over the course of the week, according to the Las Vegas Convention and Visitors Authority.
"With more than 24,000 meetings conducted in Las Vegas every year, business aviation has an important impact on the local economy," said Steve Hill, CEO of the Las Vegas Convention and Visitors Authority. "As a community and an organization, we also share a mutual focus on sustainability. Southern Nevada is a leading example of water conservation efforts using less water today than we did 30 years ago. We are also a leading destination for renewable energy and commend NBAA for their SAF efforts especially while they are here in town."