SMS Equipment Now Carries Takeuchi, a World Leader
in Compact Equipment
When you hear the phrase "good things come in small packages," think of Takeuchi. This exceptional line of compact excavators, track loaders, and wheel loaders are renowned the world over for toughness, versatility, and performance.
Fun to pronounce, Easy to use.
Takeuchi (Takh-ee-oo-chee) is renowned for making life easier on jobsites around the world.
"Bringing in the Takeuchi light construction equipment line was an ideal fit for SMS Equipment," says Chris Hort, vice president of Equipment Sales for SMS Equipment Inc. "We're very discerning about the products and brands we offer our customers. As the demand for smaller equipment in North America has increased, we did our homework and found that Takeuchi was the ideal complement to our bigger lines of Komatsu and Wirtgen products."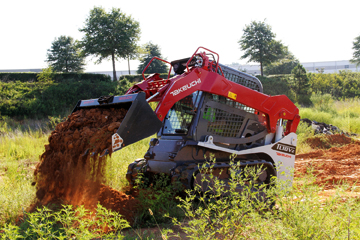 Takeuchi manufacturing, which began in 1963, is known for developing innovative products that have changed the face of construction around the globe. Developers of the world's first compact excavator in 1970, Takeuchi went on to introduce the first compact track loader in the mid-1980s. These 2 products alone have transformed the North American construction equipment market and have positioned Takeuchi as a leading provider of compact construction equipment.
"At one time, loader/backhoes were standard on a lot of jobsites," says Mr. Hort. "Customers began to realize that having 2 compact machines for around the same price as a loader/backhoe could help them be in more places, and increase versatility and performance. They also realized you didn't need to invest in a semi to transport the equipment. A light trailer with a pick-up truck is all you need to go from site to site now. The other thing about Takeuchi track loaders and mini excavators is – there's also a plethora of attachments that make them the Swiss Army knife for the construction industry."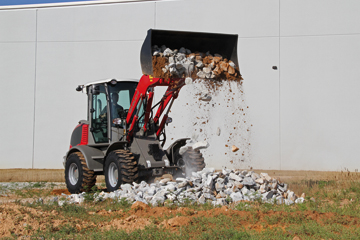 If you are a larger established company or a one-person start-up, SMS Equipment offers custom-built rental and leasing options for the Takeuchi line. KRents*, our rental division, enables you to test drive a Takeuchi for a few weeks or a year. If you prefer to purchase outright, SMS Equipment has competitive financing options as well. When it comes to parts and service, SMS Equipment has invested in factory training for its mechanics and parts team – so they are well equipped to keep Takeuchi's working at optimum performance. A full-line of Takeuchi skid steers and excavators are available right now.
"The quality of Takeuchi may be one of the best-kept secrets in our industry," adds Chris Hort. "But it won't be for long. SMS Equipment has already begun receiving initial inventory orders at branches across Canada, and we are stocking parts on our shelves and service training is well in progress. I believe Takeuchi's are the best products available in the compact equipment category."
*Available in certain areas only

Source: SMS Equipment Inc.