A Palazzani RAGNO XTJ 32 Hybrid Lithium for Television Centre
in London
Television Centre is a building complex in White City, West London, and one of the largest television centers in the world. Between 1960 to 2013 it was the headquarters of BBC Television and a landmark piece of modern architecture.
Recently the White City was extended to a huge new residential and living district.
Television Centre features a central circular block around which are studios, offices, engineering areas and the News Centre. In the center of the main block there is a statue of Helios, the Greek god of the sun, to symbolize the radiation of television around the world.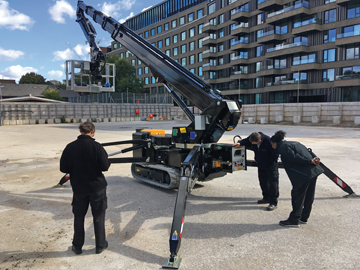 A new XTJ 32 spider lift with hybrid lithium-powered option from Palazzani Industrie has been supplied recently through TCA Lfting Limited, the UK dealer.
Equipped with a diesel engine and lithium batteries, it is used for all outdoor and indoor maintenance of the entire complex.
Lithium won over the lead-acid battery in the customer decision for its reduced size and weight with higher capacity.
Palazzani sincerely thank its partner TCA Lifting Limited for this prestigious sale.
Source: Palazzani Industrie